Renner Safaris
Dream, Explore, Discover
In September of 2012 we enjoyed another fabulous photo safari in Tanzania and Kenya! In the newsletter I am honored to show photos taken by our clients on that safari and also a few photos of mountain gorillas by clients on the subsequent gorilla trek in Rwanda later in September.  It is always interesting to see the wide variety of photos taken by people that were all on the same safari! I hope you will also treat yourself and take a moment to read their comments about our trip. I would like say a big thank those that let me post their photos and comments on my web site.
Safari Photos by Debbie Komatsu
Debbie's photos were taken using a Canon 7D and EF 70-300 f/4-5.6 L IS  lens and Canon 40 D and EF-S 10-22 f3.5-4.5.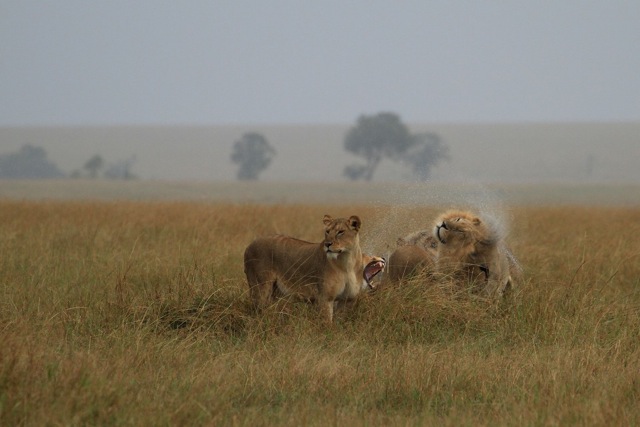 Lions In The Rain
It is hard to know what to write about our fifth safari with Paul, although that just about says it all.  Anything you do five times and a sixth coming up in May certainly must be an experience not to be missed.
Five safaris, five extraordinary experiences and every one different.  This time we enticed three friends along.  They had never been on safari before and watching them experience it all for the first time was the highlight of this trip.  They were able to see and do it all this trip, lions mating, hunting and playing with young cubs.  Elephants by the hundreds, at times all around our vehicles.  A group of eight, yes eight, white rhinos at Lake Nakuru. Flamingos at Lake Bogoria by the thousands wading in water a color blue that set off their pink feathers to perfection.  A beautiful leopard, oblivious to all the maneuvering safari vehicles, in fact using them as cover for an attempt on a herd of impala.  We watched a cheetah hunt and catch a young Thompson's gazelle.  It was the first successful hunt we have seen in all five trips and it happened in 12 seconds!  Cheetahs are fast!
We saw frolicking hippos, galloping wildebeest and sparring giraffes.  We were surrounded by cape buffalo, splashed with mud and rain, fed picnic lunches and breakfasts and took thousands of photos.  We came home exhausted and thrilled with everything we saw and did.  If you are thinking of a trip with Paul Renner, sign up.  You will not be disappointed.
Thanks Paul for another amazing experience in Africa.  We can't wait for the next one. Debbie and Stan Komatsu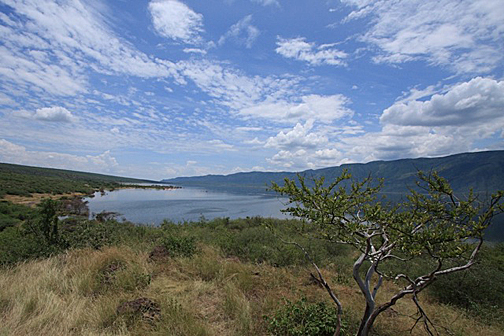 Lake Bogoria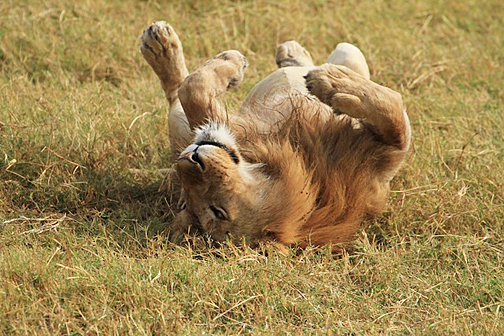 The King of Beasts?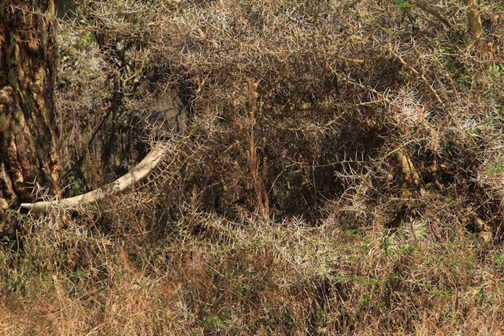 Who's Hiding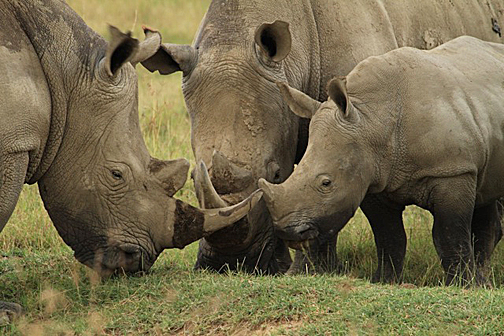 A Crash Of Rhinos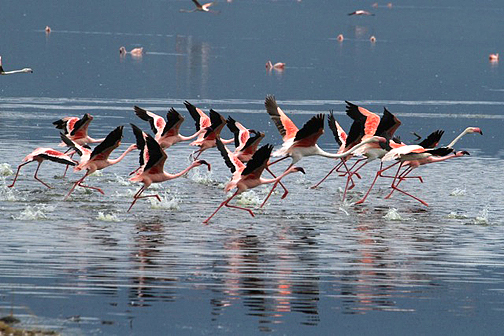 Walking On Water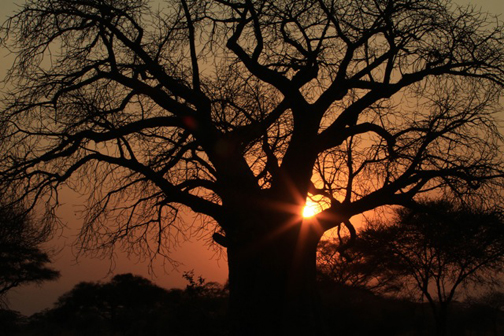 Sunset Baobab
Photos ©Debbie Komatsu: 2012
———————————————————————————————
Safari Photos by Stanley Komatsu
Stan's photos were taken with a Canon T1i and the 100 – 400 f/4 – 5.6 L IS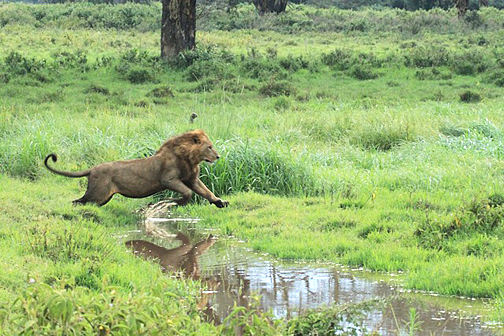 Trying To Keep My Paws Dry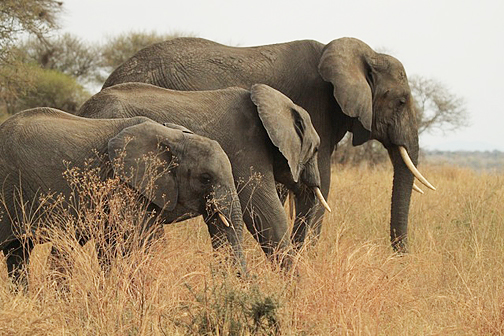 Elephants In A Row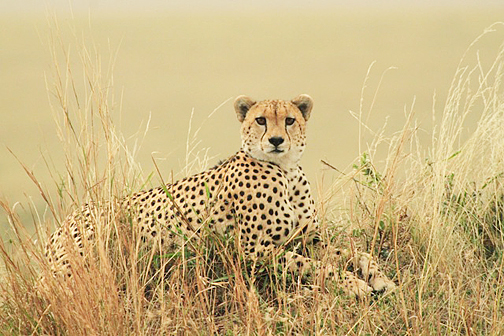 On The Lookout (Cheetah)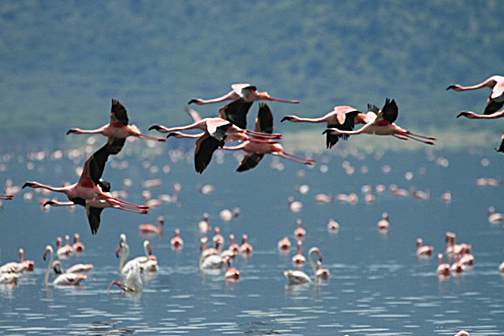 Flying Flamingos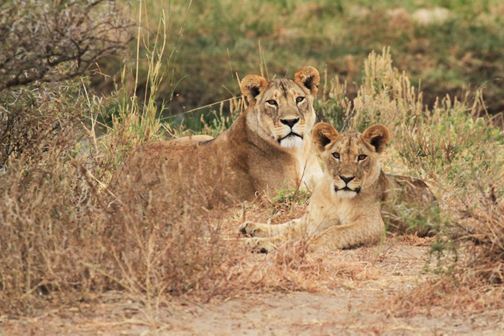 Alert Lions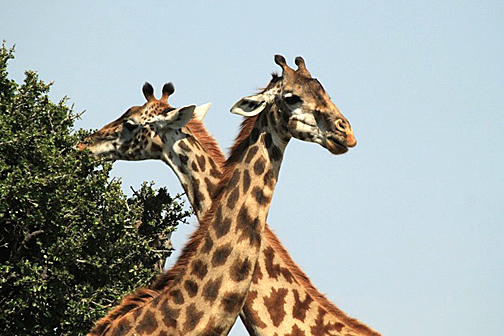 Crisscross Giraffes
Photos ©Stanley Komatsu: 2012
———————————————————————————————
Safari Photos by Scott Hatland
"I planned a safari with Paul a year in advance.  Paul called me personally upon signing up to go over things, and I was amazed about his dedication and knowledge from the start.  When we first talked I was unsure who I wanted to go on safari with, but after our discussion my decision was made. The safari was everything I imagined and more and is something I will remember for the rest of my life.  The lodges, the fellow safari-mates, the safari and wildlife guides, the safari vehicles, the food – EVERYTHING was top class.  If you are thinking about going on safari, stop looking and go with Paul Renner.  You'll have the trip of a lifetime, and there is nobody nicer to travel with than Paul.  To make it even better, he is an expert on African culture, is fluent in Swahili, and cares deeply that you are exposed to the beautiful wildlife, landscape, culture, and people that define Africa.  The best endorsement I can give is I simply cannot wait to go back on safari with Paul."      Scott
You can view more of Scott's photos at http://www.scotthatland.com
Don't miss Scott's great gorilla photos toward the bottom of the newsletter.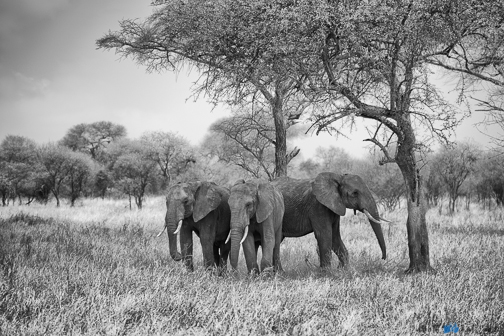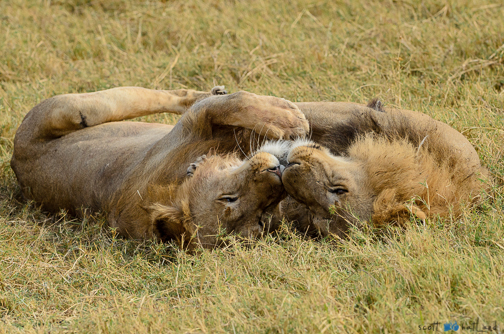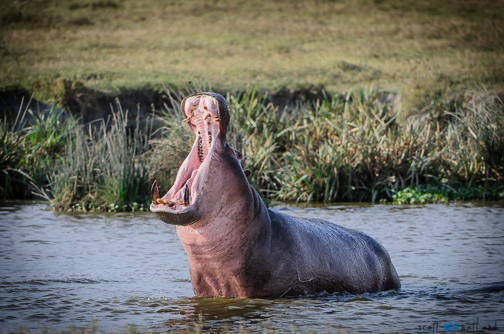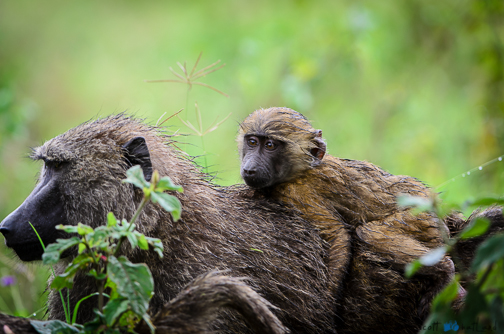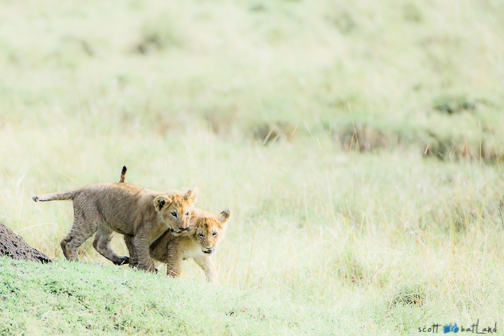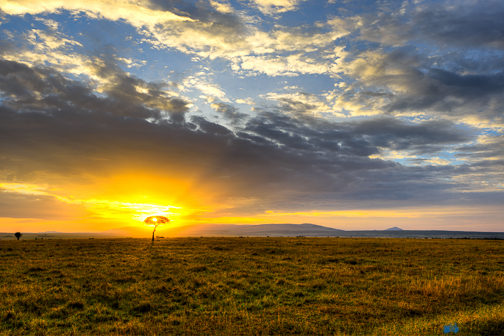 Photos ©Scott Hatland: 2012
———————————————————————————————
Safari Photos by Butch Taylor
A lifetime dream came true for us when we went with Paul Renner on his African Safari trip to Kenya and Tanzania!  It truly was a life-changing experience—one we will never forget and will treasure forever!  We are NOT photographers by any means.  However, we were encouraged and genuinely welcomed by Paul to join his photo group, even with our very, very small point and shoot cameras!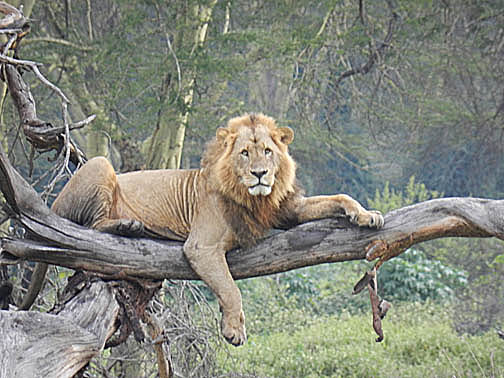 Some of the most outstanding reasons this trip was so superior were:
1. Thorough preparation steps, specific timelines, and helpful tips were laid out immediately after signing up with Paul and Prem.
Both were always readily available for all of our questions.
2. The accommodations, food, and facilities were first class and luxurious—even in the tent camps!
3. Our driver-guides were absolutely amazing!  They were super friendly, patient, extremely skilled and knowledgeable.  Each one was deeply proud of their country and eager to share the many spectacular sights.  We ALWAYS felt safe!
4. Our 9-passenger vehicles were limited to 3 people.  This was a MAJOR factor for our comfort and picture-taking, especially after we saw how other companies really loaded up their vehicles.
5. Most impressive of all was Paul's infectious love of Africa and his willingness to share his extensive experiences with us.  His traveling expertise is unsurpassed and his calm, organized and pleasant approach to every single day made it the most exciting and exhilarating travel experience of our lives!  It far exceeded  our expectations!!
When you take this trip with Paul, expect to fall in love with Africa and all of its remarkable magic—-from the vastly beautiful scenery, the awesome animals living in their protected environments, to the amazing African people!  We left part of our hearts with all of them and now we dream of returning on another Paul Renner Safari…SOON!!
ASANTE SANA, Paul!  THANK YOU SO VERY MUCH…and continued safe travels in 2013 and beyond!!   Butch and Marg,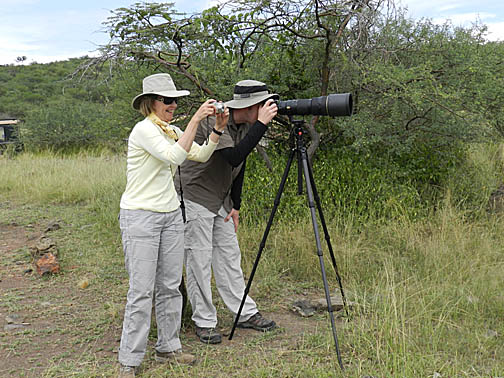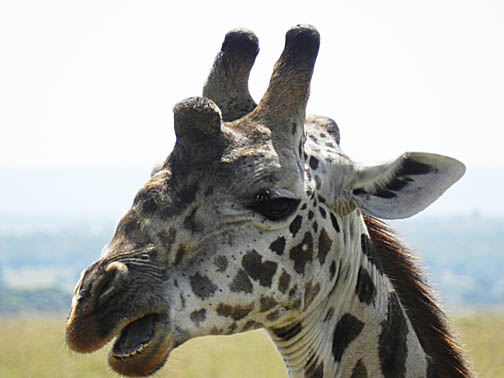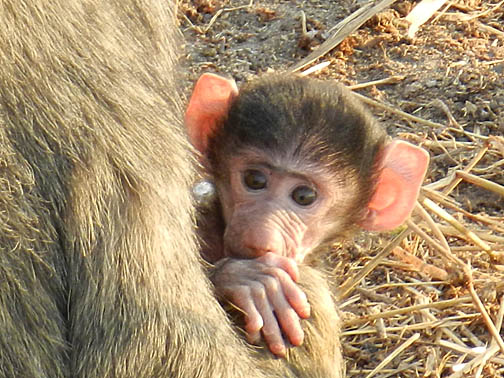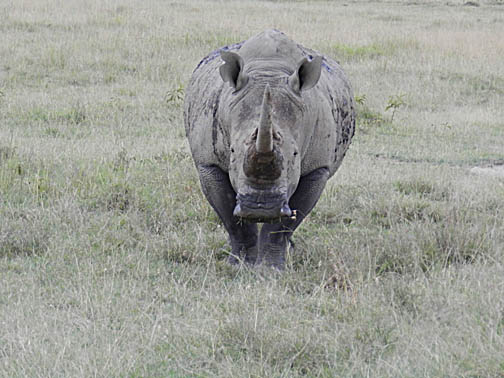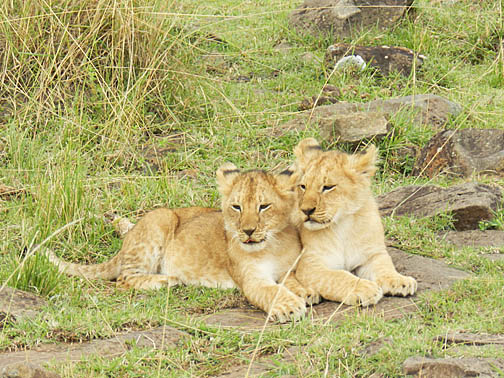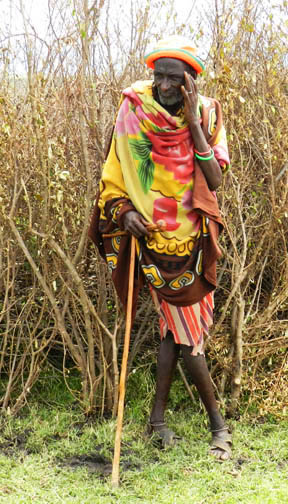 Photos ©Everett Tayor: 2012
———————————————————————————————
 African Photo Safaris In 2013
At this time, except for the recently added South Africa safari late in September,  the remainder of our 2013 safaris have been sold out for some time.  See the second table below for the dates of our 2014 safaris. Be sure and book your trip early so you wont be disappointed.
Tanzania and Kenya-17 Days – Birthing Season for the Great Migration

(closed)

Feb. 1-17, 2013
Itinerary and Pricing
Botswana-15-Days

(sold out)

May 16-28, 2013
Itinerary and Pricing
Tanzania and Kenya-18-Days – Season for Great Migration Crossings at the Mara River   

(sold out)

July 18 – Aug.4, 2013
Itinerary and Pricing
Tanzania and Kenya-17-Days – Season for Great Migration Crossings at the Mara River  (sold out)

Aug. 28 – Sept. 13, 2013
Itinerary and Pricing
Rwanda Mountain Gorilla Trek

(sold out)

Sept. 13 – 17, 2013
Itinerary and Pricing
South Africa Photo Safari  

(one room for two people sharing is now available)

Sept. 19 – Oct. 2, 2013
Itinerary and Pricing
African Photo Safaris Schedule for 2014
We have set the dates for our 2014 photo safaris per the table below.  We will post the itineraries in the next month and as soon as we receive confirmation and prices from the lodges we will post the prices as well. We hope to receive the prices for our 2014 safaris by the end of April 2013. To keep the prices of our trips competitive, we wait until we receive the actual prices from the lodges and airlines. We could guess at the prices, but then we would have to guess high to make sure we didn't underestimate.  We appreciate your patience and understanding. Our safaris are a great value and definitely worth waiting for!
Tanzania and Kenya – Birthing Season for the Great Migration
 Feb.1-17, 2014
Itinerary and Pricing coming soon
Botswana and Zambia
May 20 – June 4, 2014
Itinerary and Pricing coming soon
Tanzania and Kenya – Season for Great Migration Crossings at the Mara River

 

July 16 – Aug.2, 2014
Itinerary and Pricing coming soon
Tanzania and Kenya – Season for Great Migration Crossings at the Mara River

 

Aug. 28 – Sept. 13, 2014
Itinerary and Pricing coming soon
Rwanda Mountain Gorilla Trek

 

Sept. 13 – 17, 2014
Itinerary and Pricing coming soon
 Important information about our safaris
| | | |
| --- | --- | --- |
| Prices for our safaris to Kenya and Tanzania include international airfare from LAX – most other companies do not include airfare. | | |
| We have only three passengers per nine passenger 4×4 safari Land Cruiser so You will enjoy plenty of space for you and your equipment. | | |
| We stay in luxury safari lodges and tented camps. | | |
| You do not have to be a photographer but you must enjoy watching the wildlife because that is what we do! | | |
| I will be there to photograph with you and available to answer your questions. | | |
|  Parks we visit on our African safaris. | | |
——————————————————————————————-
On our Tanzania/Kenya safaris we have only three passengers per nine passenger vehicle giving you plenty of space for you and your photo equipment. You can photograph through windows on BOTH sides of the vehicle and also from the top, which pops up to create shade so you are protected from the hot, equatorial sun. Compared to other tours that pack the vans with up to eight people, this is a huge deal! Our African photo safaris are limited to eighteen people, including the leaders.As we leave the lodges, the vehicles separate and spread out. This allows us to have up to six guides out looking for wildlife. They each have radios to share what they find. This way no one misses out on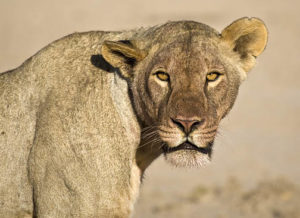 seeing the wildlife! When using  six great guides, you will hardly believe all of the wildlife they find. We have trained them to  understand lighting, composition and what we are trying to achieve. Our guides are awesome!Our safaris are designed for the ultimate photographic experience, however please don't be intimidated from enjoying one my photo safaris just because you are not a photographer or you don't use a "great camera." If you enjoy wildlife you will love these safaris and more than likely you'll come home with your own great photos too!I will be photographing on our game drives too, but I am available to answer your questions and let you know how I am photographing each subject so you can learn more about photography and bring home your own great photos too.To avoid disappointment, make your reservations today.
To reserve your space on our photo safaris, please call Paul Renner at (949) 295-3136, or email him at: paulrenner3@cox.net or call Prem Sharma at Best Safaris (800) 757-6625
———————————————————————————————
Safari Photos by Cynthia Root
Dreams do come true. In 1961, at the age of 10, I decided I wanted to experience the savannas of Africa in an up close and personal way but never expected it to become a reality. Paul Renner made my dream of a lifetime come true in so many ways. With only three guests per vehicle, I never felt rushed to move on. Being able to sit and watch the animals interact naturally for hours was a gift no other safari could have provided. The driver/guides were willing to share their knowledge of the areas and animals, spot photo opportunities we would have missed, and tend to our needs in a professional yet caring manner. If we go to Africa again, we will choose a Paul Renner Safari; no one else will even be considered.  Cynthia Root
For her photography, Cynthia used a Nikon D70S camera body with a Tamron Di-II 18-200 mm f/3.5-6.3 zoom lens, and a Tamron 2X teleconverter.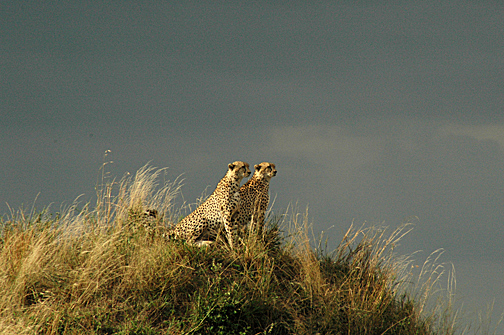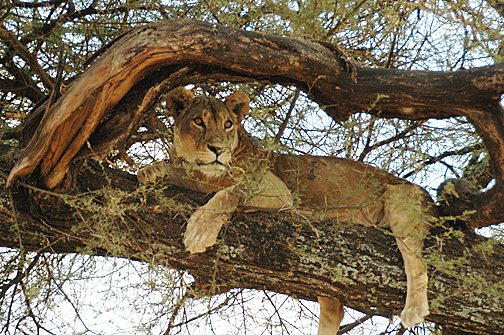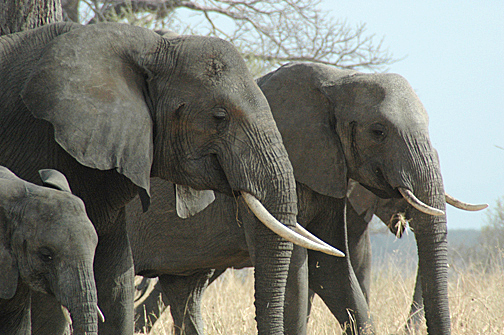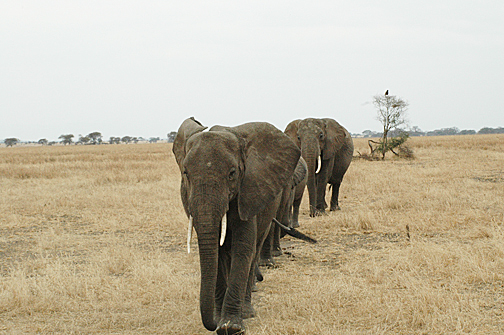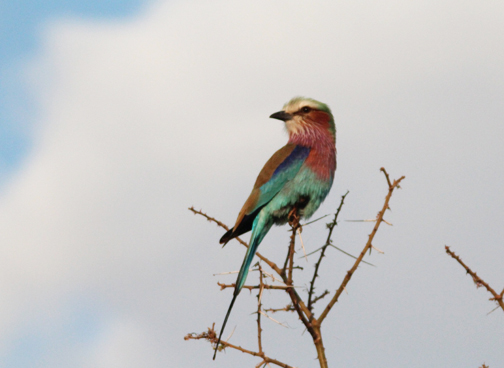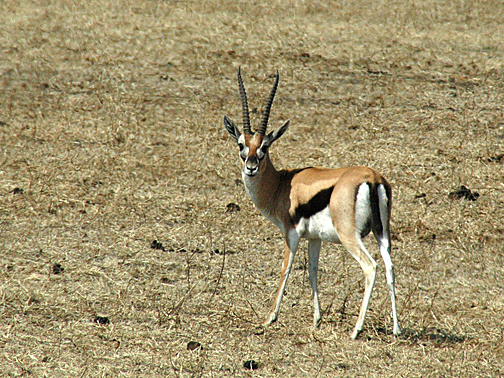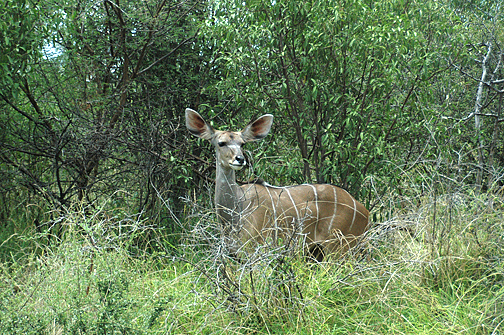 Photos ©Cynthia Root: 2012
———————————————————————————————
Safari Photos by Ervin Root
When we were looking for a photo safari, I wanted it to be guided by a professional photographer who would be willing to impart some of his knowledge to us amateurs.  Even though I have been a relatively serious amateur for over 50 years, there is always something new to learn.  Paul was tremendous in that regard, by always being available to answer questions and give advice on the technical aspects of nature photography.  He will even weigh in on the Nikon versus Canon debate if you ask him!  Ervin Root
For his photography, Ervin used a Canon T3i camera body with a Tamron Di-II, IS 18-270 mm f/3.5-6.3 zoom lens, a Tamron 2X teleconverter and a Sigma DG 150-500 mm f5-6.3 zoom lens.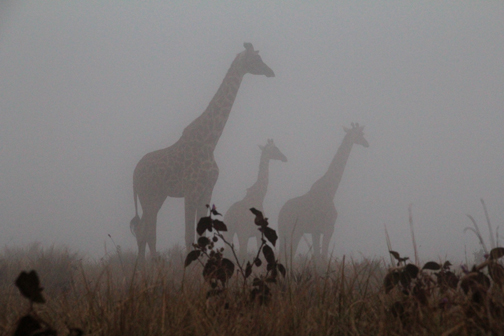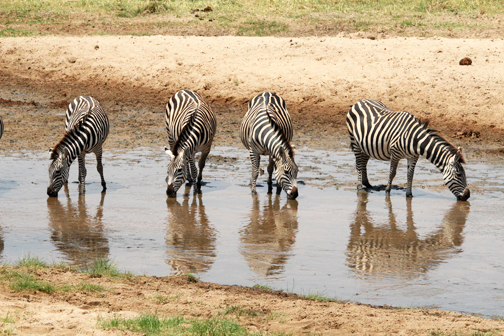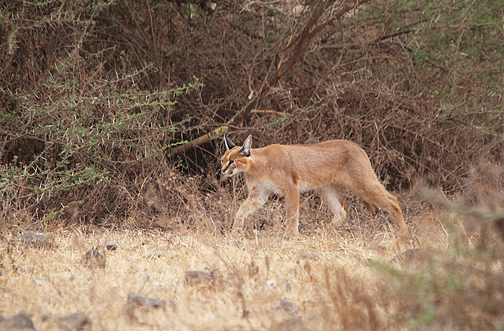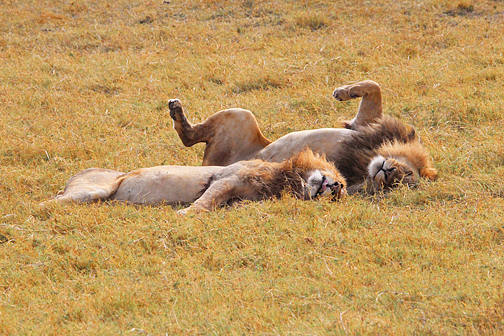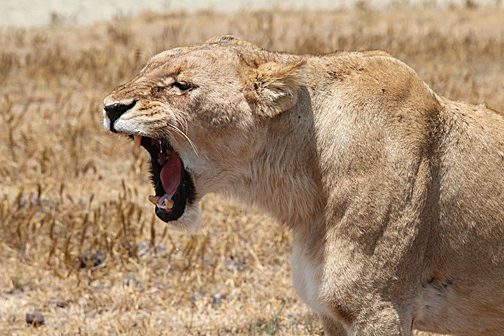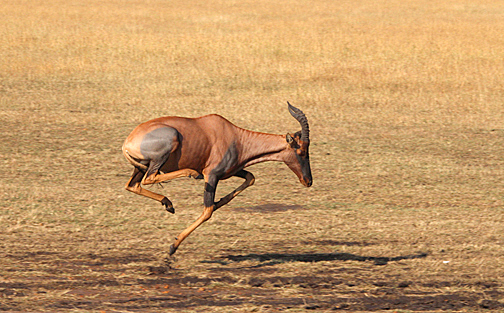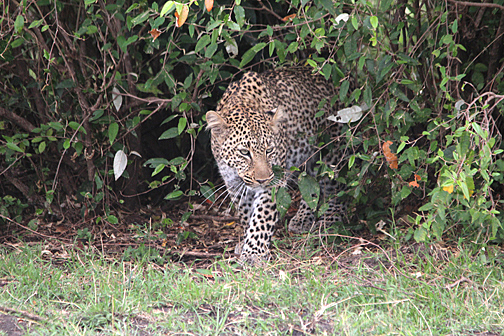 Photos ©Ervin Root: 2012
———————————————————————————————
Safari Photos by Carol Lloyd
Paul's trips are always amazing.  This was my second trip with him.  We saw the Big Five and much more.  The Caracal Cat on the way into the Ngorangoro crater was a rare sighting.  Pretty amazing.  The Gorilla Trek in Rowanda was truly wet and wild.  We saw a different family each day.  Our drivers did an excellent job of driving, scouting, and getting us into position to get the best shot possible.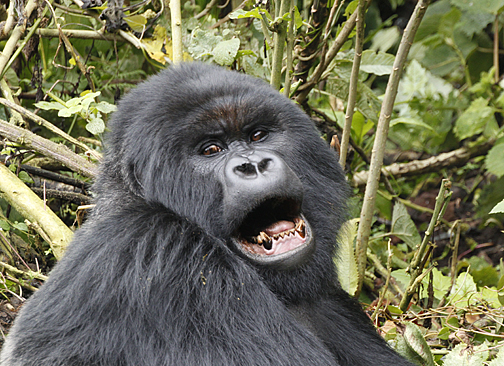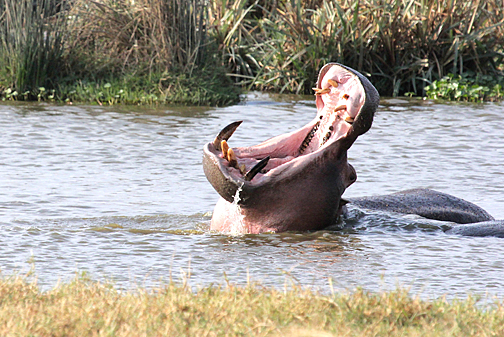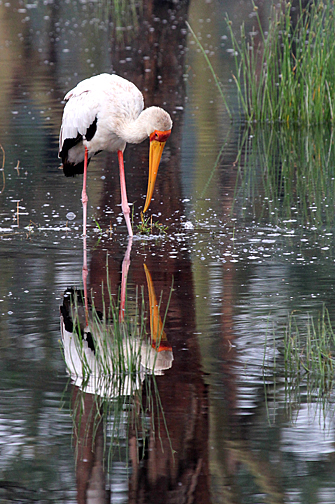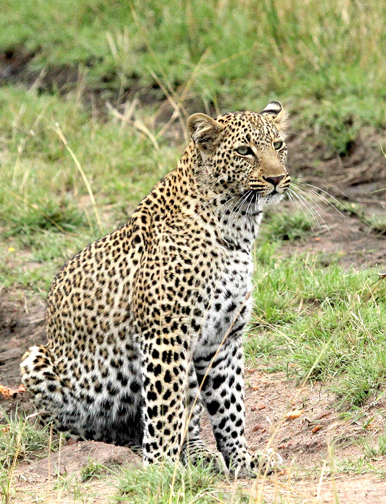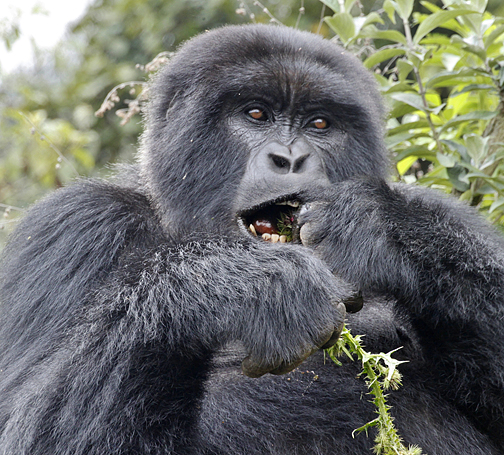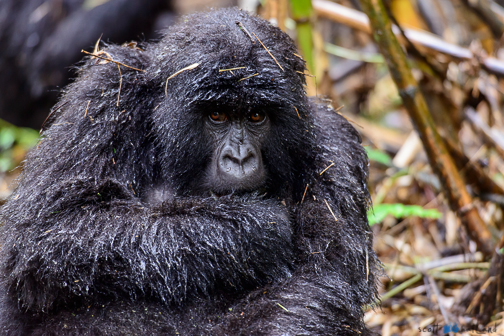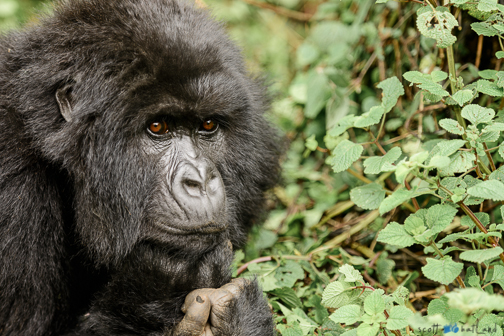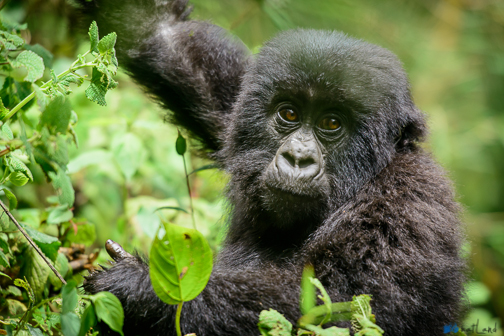 Photos ©Scott Hatland: 2012
———————————————————————————————
I hope you can join us on safari in 2014 to see and experience all of this for yourself?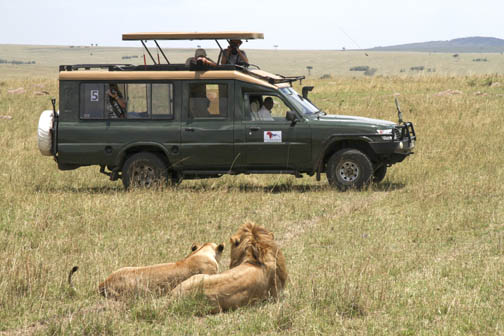 Watching a Pair of Lions From One of our 4×4 Land Cruisers
Masai Mara, Kenya
Canon EOS 1D Mark lll, Lens: Canon EF100-400mm, f4.5-5.6 IS USM
———————————————————————————————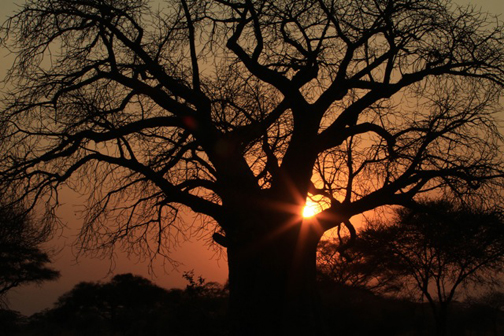 Sunset Baobab
Canon 40 D and EF-S 10-22 f3.5-4.5
Photo ©Debbie Komatsu: 2012
———————————————————————————————
Please feel free to forward the newsletter on to friends that might enjoy it.
For more safari information, prices and itineraries click here.
I hope that you will be able to join us on one of our safaris in the not so distant future. Why not join us in South Africa this year in September?
Enjoy each day.
Paul Renner
paulrenner3@cox.net
(949) 295-3136
Read more about what our clients have to say about our safaris