African photo safari to Tanzania
Dream, Explore, Discover
With Renner Safaris
Tanzania thrilled us again! We had a wonderful group of clients and saw a tremendous variety of wildlife in varied and different landscapes! First we visited the magnificent parks, Tarangire, Ngorongoro and the Serengeti in northern Tanzania before flying south to Ruaha and Selous!  They are two of the largest parks in Africa and sure enough, they were loaded with animals! Wildlife along the main river channel in each park provided us with tremendous photo opportunities.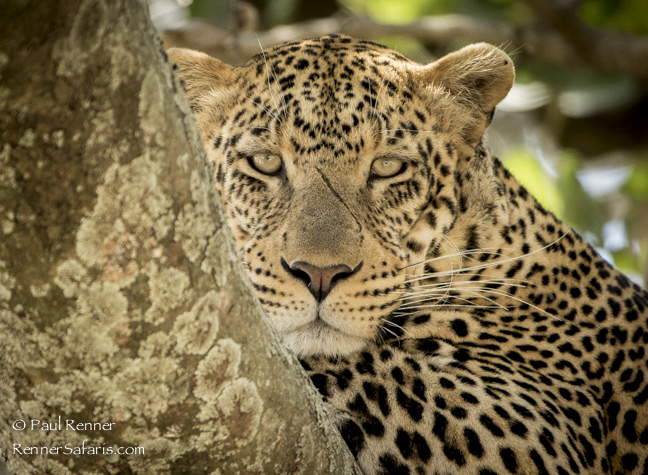 Leopard in Serengeti National Park
With head held high, this rhino crossed the road in front of our vehicle and headed across the plains. It moved on through vast herds of wildebeest and zebra that seemingly payed no attention to the huge animal moving among them.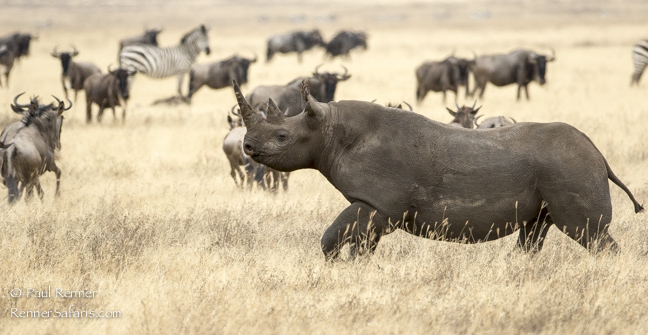 Rhino in Ngorongoro Crater
Most of Tarangire National Park was very dry so elephants appeared to love visiting available water holes. We were entertained by their playful behavior as we entered the park on our first day on safari.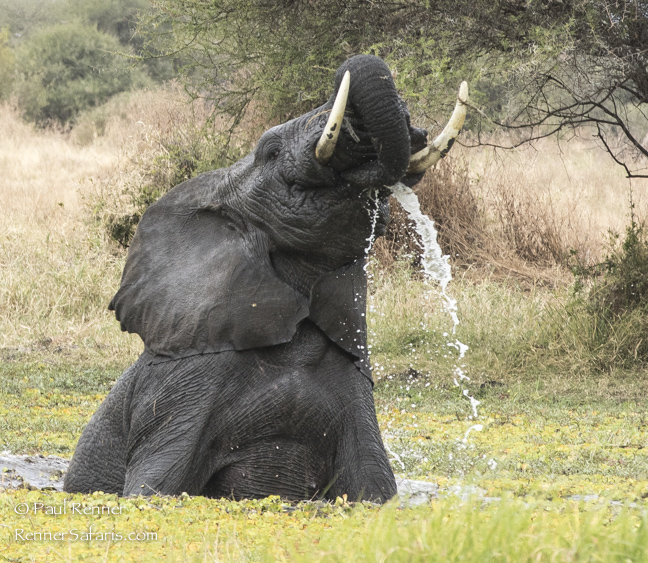 Elephant in a waterhole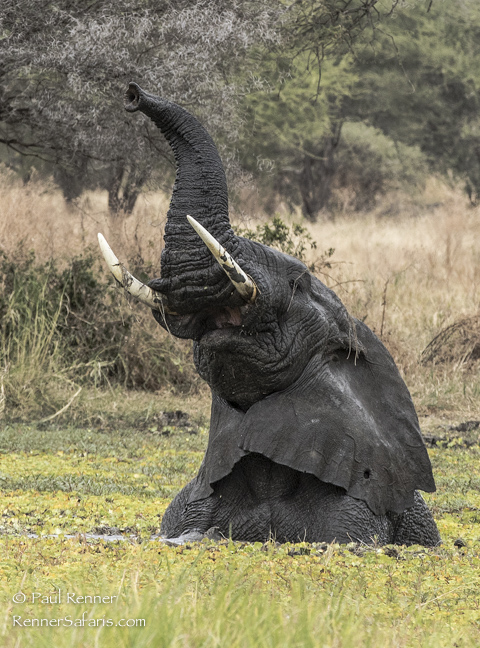 More Fun at the Waterhole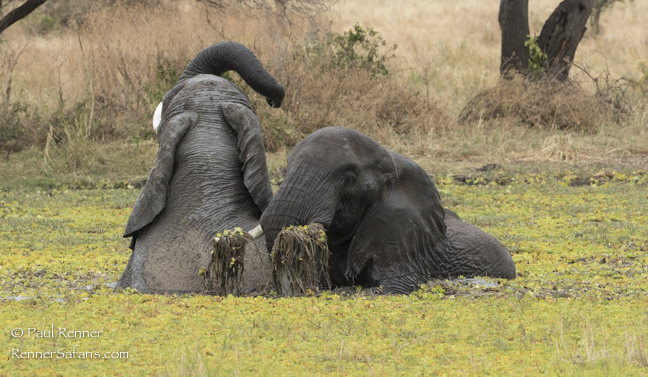 Twice the Fun in the Waterhole
This Little Bee Eater flew a sortie up into the air and returned to the branch with a juicy dragonfly. A nice catch for a beautiful, little bird!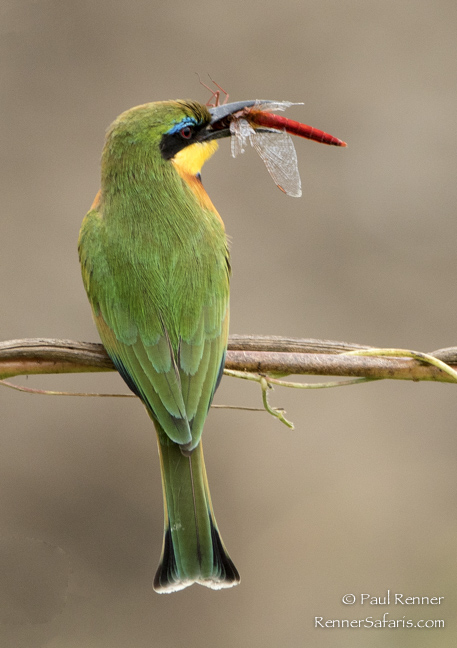 Little Bee Eater Eating Dragonfly
On our way through the Serengeti, Exaud, our lead driver, led our group around the side of a large rock kopje, (outcropping of granite boulders) to show us a den that was being used by a family of striped hyenas. He knew that they had pups, but we would be very lucky to see them in the daytime because they are nocturnal animals. We were looking toward the den when we noticed a movement behind the green bush. We quietly, watched and waited until the pup got comfortable and came out to explore outside the  den. The pup was a sighting I had never experienced before so I was thrilled. Striped hyenas are very rare and most often seen at night!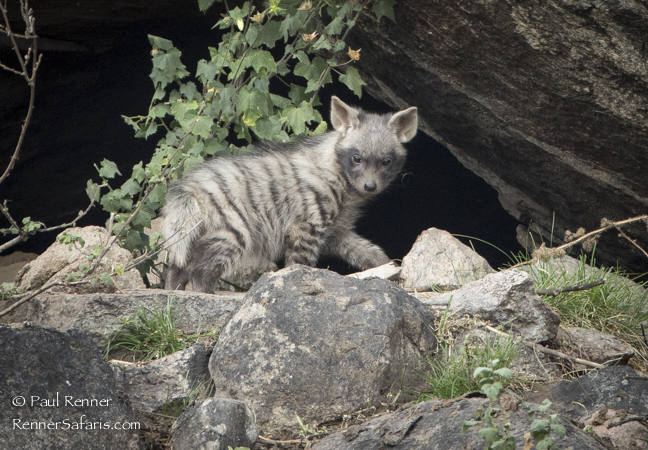 Striped Hyena Pup
Gymnogene, is a member of the African Harrier Hawk family. Other birds know them as nest raiders, and when one is in the vicinity, the other birds can be heard frantically calling to warn each other of impending danger. Gymnogene spend a substantial portion of their day flying from tree to tree inspecting nests and looking into holes in tree trunks and large branches. Their tarsal joints are very supple giving them a wide range of movement. This allows the Gymnogene to get its talons into small, usually inaccessible areas. Gymnogene are often seen checking out Hamerkop nests, not only for their chicks , but also for other birds which use abandoned Hamerkop nests.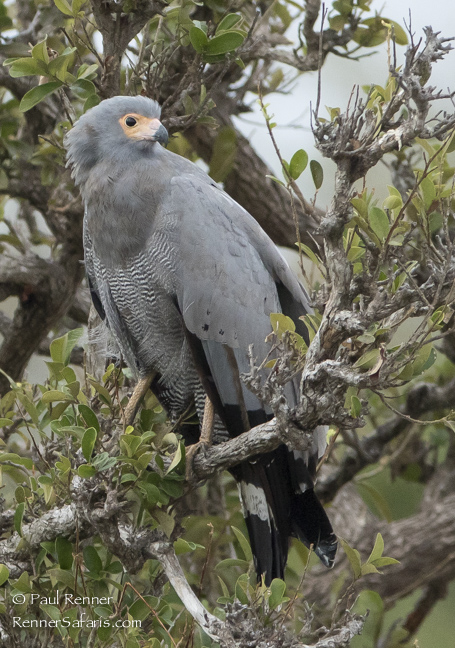 Gymnogene
Giraffe mothers are attentive to their offspring.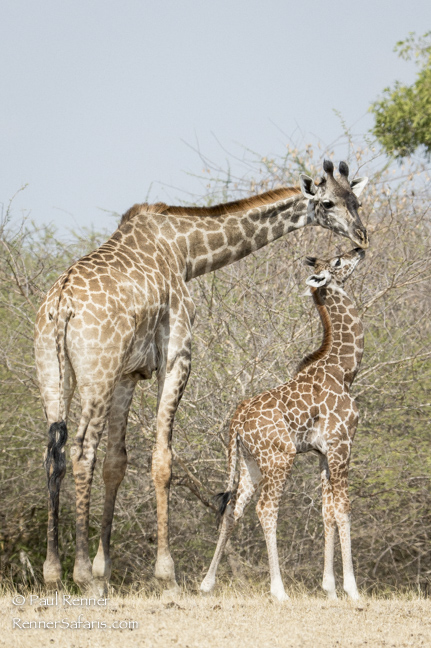 Mother Kissing Baby Giraffe
No crocodiles in this water so the zebras looked comfortable wading in.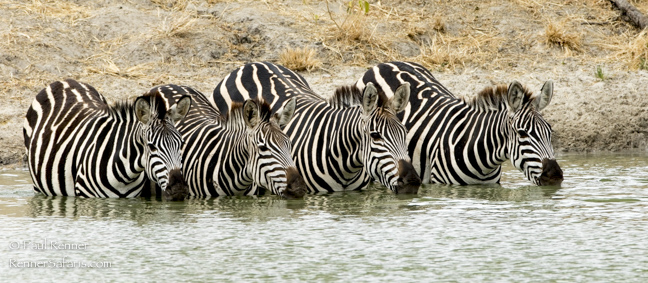 Zebras Drinking in Tarangire National Park
In the northern sector of the Serengeti, at the Mara River, vultures gather to feed on the carcasses of animals that fail  to make it all the way across the river. Rupell's Griffon Vultures are large birds and spend 6-7 hours a day soaring through the skies over Africa in search of food. One of these birds was documented as having been ingested by a jet engine on an aircraft flying at an altitude of 37000 feet.  They are definitely one of the highest flying birds.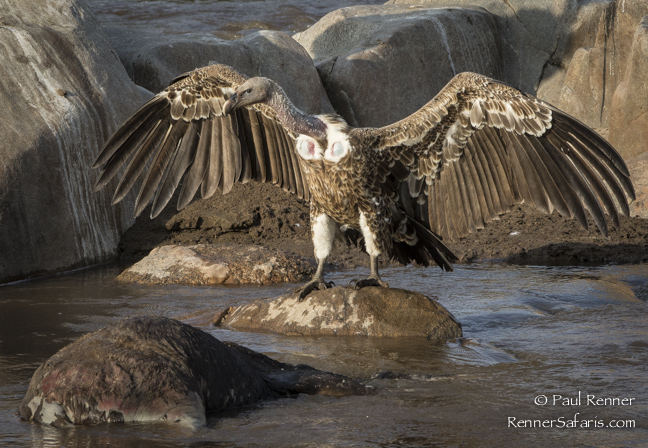 Ruppell's Griffon Vulture in Mara River
While driving through the Serengeti we came upon two male lions lying under a bush right next to the road. I was able to photograph this lion up close as he was only five feet from the vehicle. I laid across the back seat and shot through the open window. I can say from personal experience that when the lion looked right into my eyes it felt as though he was looking into my soul.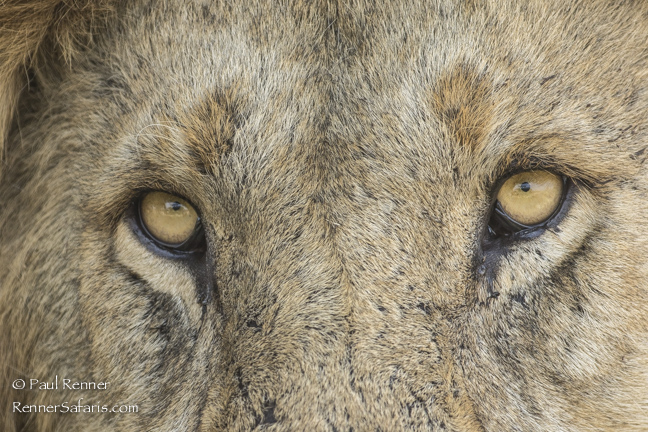 Iv'e Got My Eyes On You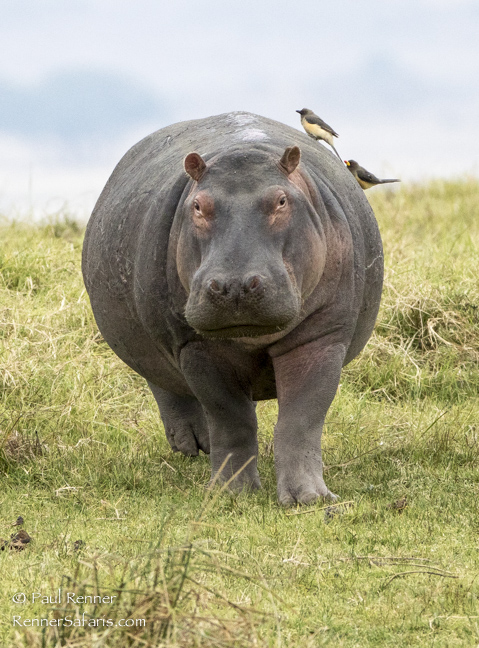 Hippo and Red Billed Oxpeckers
When we first came upon this elephant she seemed agitated and appeared as though she may charge.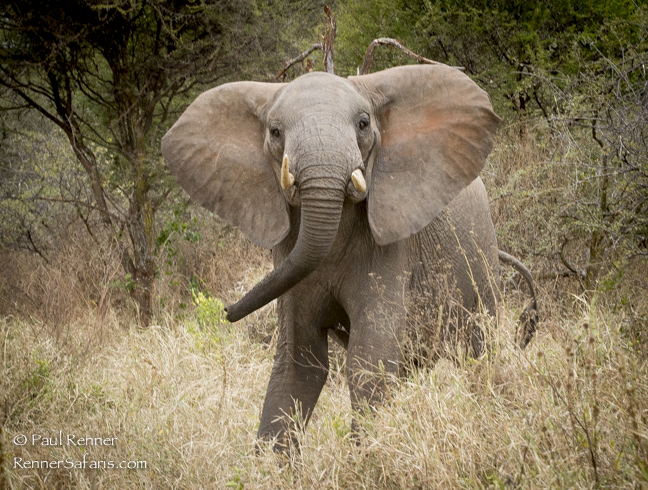 Elephant Posturing
She got used to our presence, relaxed and let us watch and photograph as she and her young one caressed each other affectionately. We enjoyed special moments between them and were able to capture many wonderful photos.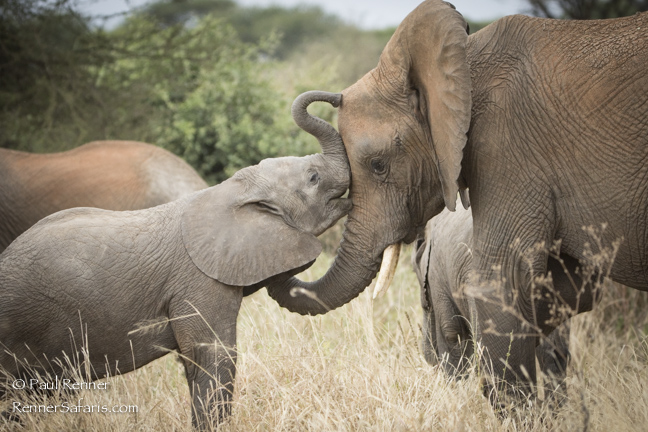 Affection between Mother and Baby
Banded Mongoose are constantly on the lookout for danger and immediately warn the troop of any possible problems. Groups of thirty or more are fairly common. When they sense danger and run as a group, it looks like they are doing the wave as they scurry over bumps, logs or even termite mounds.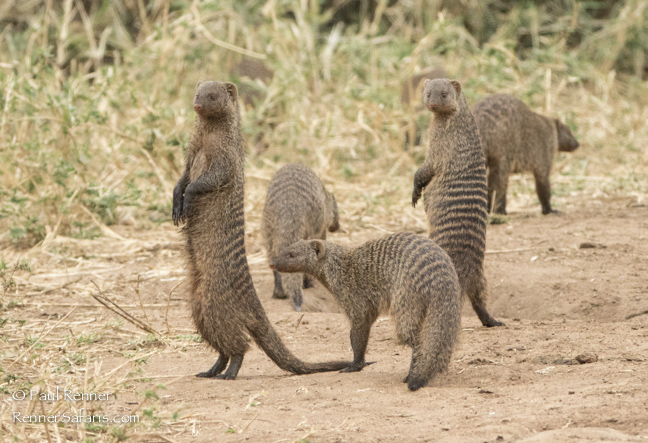 Banded Mongoose
The little hippo stayed very close to it's mom for safety reasons. There were many hippos in the pond and if the baby got in the wrong place it could easily be crushed.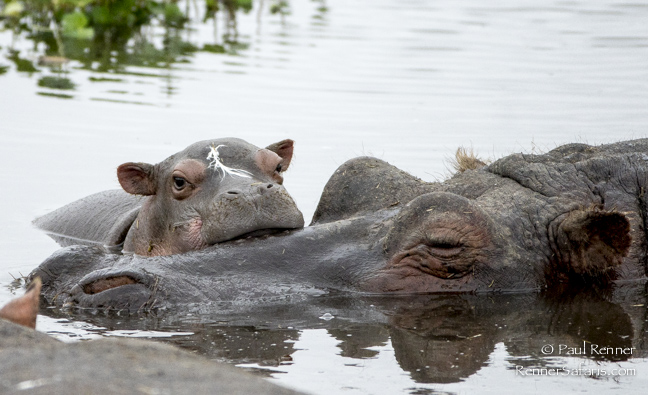 Baby Hippo Resting on Mother
2017 Safari Dates
An African Photo Safari is a unique adventure. It is an experience that is the subject of dreams. For those lucky enough to have been, it is an experience that remains fresh in memories for years to come.
Africa. A majestic world truly unlike any other. No other continent has so much beauty to offer nature lovers and wildlife photographers alike. It is a beauty rich with incomparable wildlife, beautiful, friendly people and majestic landscapes. Join me on an African photo safari for the trip of your lifetime!
Tanzania and Kenya – Birthing Season with the Great Migration

Feb 20-March 7, 2017

Itinerary and Pricing
Botswana/Zambia – Photograph in four of Africa's most exciting wildlife viewing locations.        Sold out


May 14-31, 2017

Itinerary and Pricing
Botswana/Zambia – Photograph in four of Africa's most exciting wildlife viewing locations.          

New- Just Added




May 29-June 15, 2017

Itinerary and Pricing

Tanzania & Kenya – Season for Great Migration Crossings at the Mara River.

July 15 – 31, 2017

Itinerary and Pricing

Tanzania and Kenya – Season for Great Migration Crossings at the Mara River.

Aug. 28 – Sept. 13, 2017

Itinerary and Pricing

South Africa Photo Safari

Sept. 12 – 28, 2017

Itinerary and Pricing


"Twenty years from now you will be more disappointed by the things that you didn't do than by the ones you did do. So throw off the bowlines. Sail away from the safe harbor. Catch the trade winds in your sails. Explore. Dream. Discover." – Mark Twain
To reserve your space on our photo safaris, please call Paul Renner at (949) 295-3136, or email him at: paulrenner3@cox.net or ask for Prem Sharma or Gaby Gurrola at Best Safaris (800) 757-6625. The above itinerary dates may be subject to change due to accommodation availability at the time of booking.
2016 Safari Dates
Wildlife photo safaris in Africa are at the top of  many people's bucket lists. We have designed our photo safaris to take clients to the best locations for wildlife viewing and/or photography in each country. These are phenomenal  trips so I hope you will be able to join me for your trip of a lifetime! You don't need to be a photographer but you should enjoy watching wildlife because that is our focus.
To reserve your space on our photo safaris, please call Paul Renner at (949) 295-3136, or email him at: paulrenner3@cox.net or ask for Prem Sharma or Gaby Gurrola at Best Safaris (800) 757-6625. The above itinerary dates may be subject to change due to accommodation availability at the time of booking.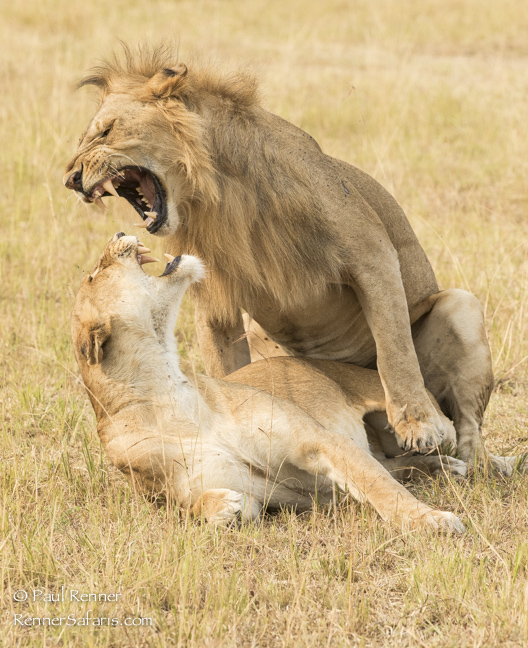 Lions Snarling After Mating
Martial Eagles are big and powerful enough that they can actually kill small antelope.  They are excellent hunters and also feared by many other birds such as guinea fowl and spur fowl.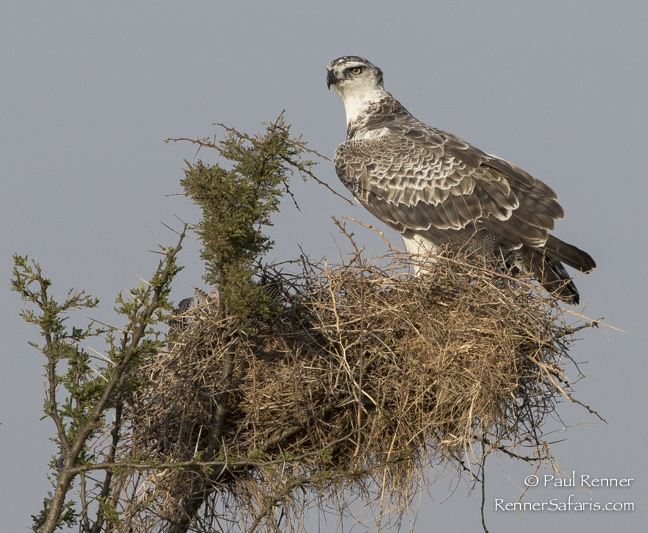 Martial Eagle
It looks like peaceful scene in Selous. But often things are not as they first appear.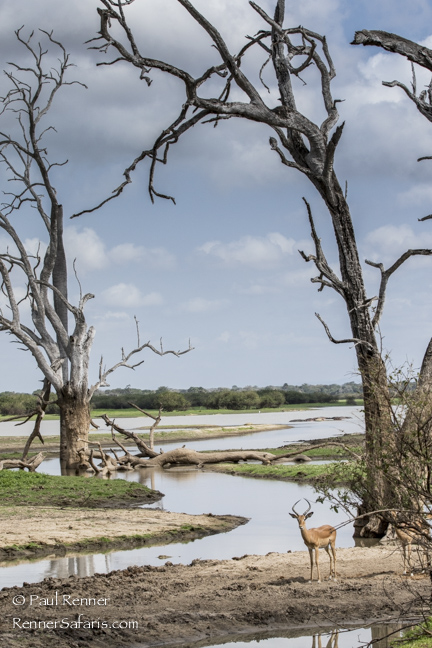 Impala at River
Impala wanted to cross to the island but were nervous about crocodiles in the water. If you look carefully you can see the heads of two crocs in the water, one to the right and one to the left, behind the impala.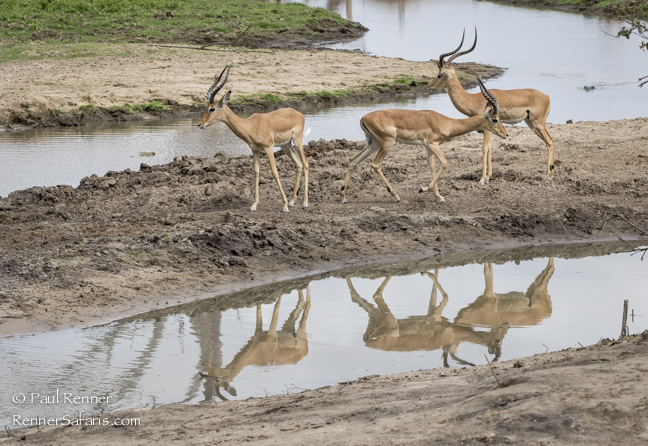 The river was a little to wide for the impala to cross in one leap. When they splashed in the water the sound alerted the crocodiles and they quickly moved into position. Four impala crossed safely however the rest of the herd decided not to take a chance on jumping to the island.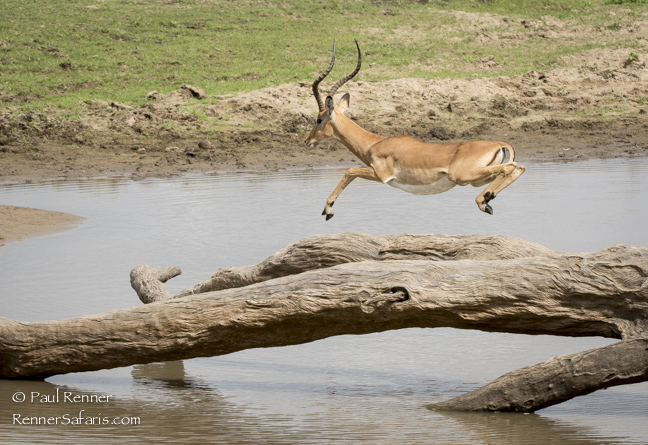 Impala  Leaping Across River Channel
A shy greater kudu bull stayed in the trees making it difficult to get a great photo of him.  Notice his massive spiraling horns camouflaged by the tree branches.  I believe he has the largest set of horns I have ever seen on a kudu.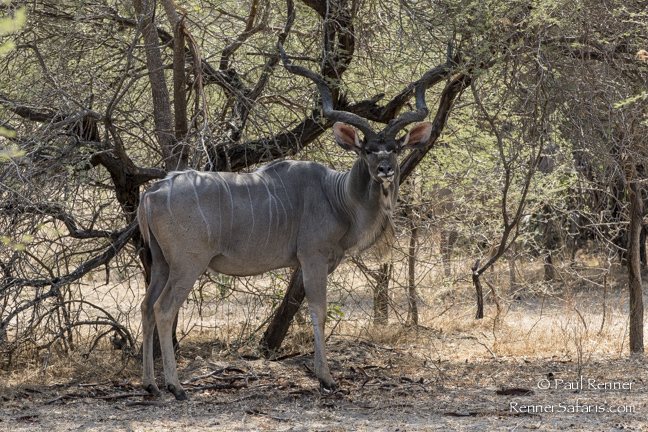 Greater Kudu
Giraffe on the runway and grazing around the windsock was an intriguing sighting. In Africa we often see the unexpected or unusual! That is one of the ingredients that make our safaris so fun and exciting.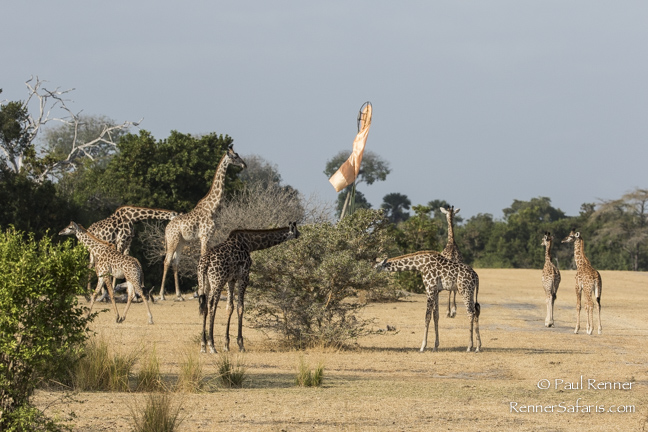 Giraffe Grazing Around Windsock by Runway
Waterbuck are shaggy haired animals with heart shaped noses. They are not a favorite prey of lions because when attacked they release a nasty tasting chemical into their meat making them quite unsavory. However, when hungry enough, lions have been known to eat waterbuck.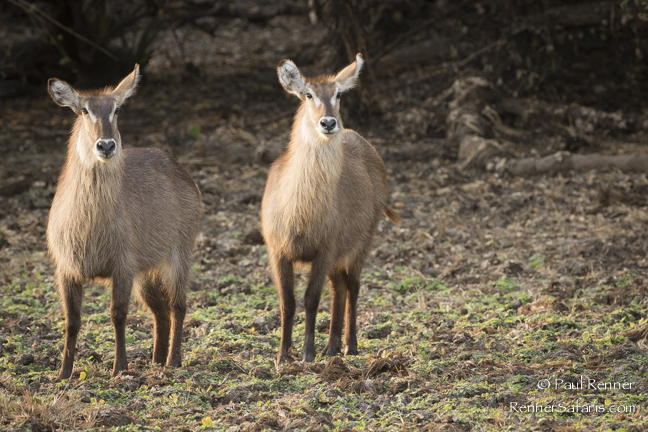 Female Waterbucks
I love these little guys that visit us at the lodges. Be careful, though, because they are notorious for steeling snacks and shiny objects.  We even had one steel a tube of paint from an artist that went with us on safari.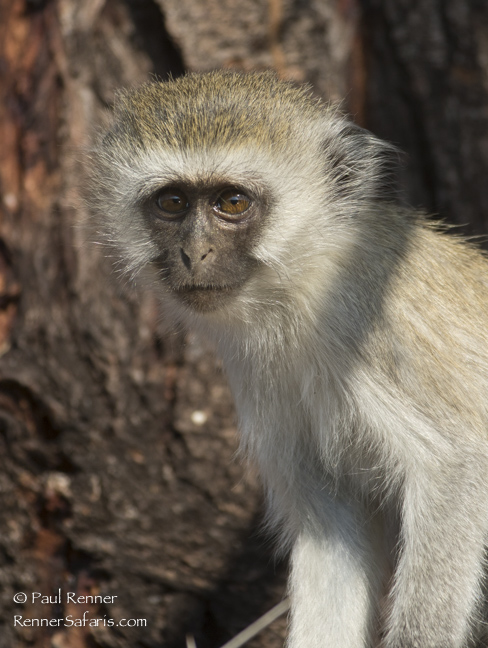 Vervet Monkey
These little, guinea pig like creatures are the closest relative, by bone structure to the elephant. Hard to believe! They are found around rock kopjes.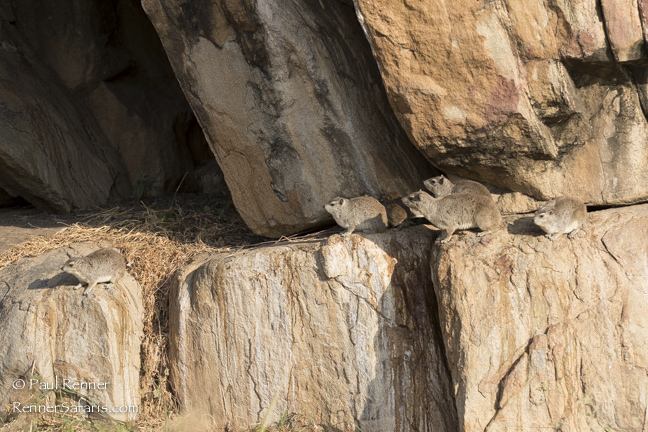 Rock Hyraxes in Tarangire
Topis are large antelope with beautiful coloration that glistens in sunlight.  They have exceptional vision and are often found standing atop termite mounds while keeping a sharp eye out for predators.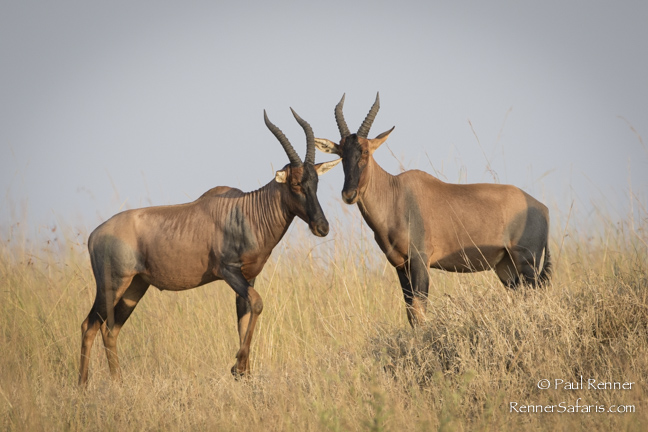 Topi
Jackals are scavengers and are often seen at kills made by lions or hyenas.  They are bold but make quick escapes when chased by larger predators.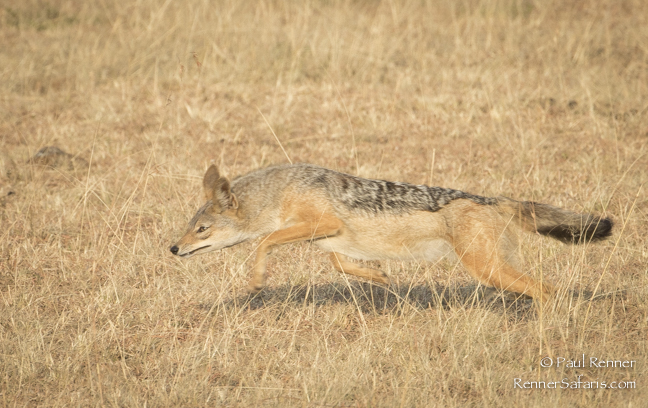 Black Backed Jackal makes a hasty get-away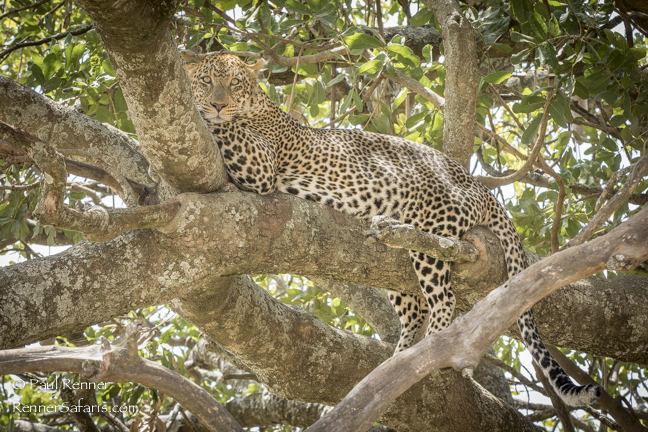 Leopard Resting in Sausage Tree
Klipspringers are experts at climbing rocks and jumping from boulder to boulder. In a way, they are much like mountain goats, only smaller.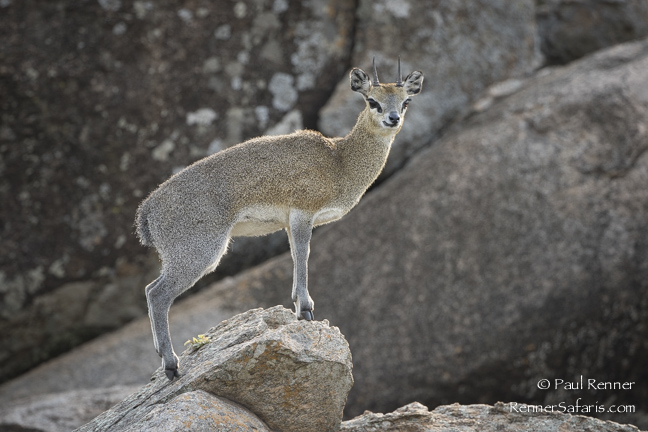 Klipspringer
One morning in Selous, it looked as though crocodiles were having a party. We counted about fifty crocs feeding on this hippo carcass. I have never seen so many crocs in one place before. Most were 12 to 14 feet long so they were not huge crocs like we see in the Masai Mara but I don't think I would feel comfortable going for a swim in the Rufiji River.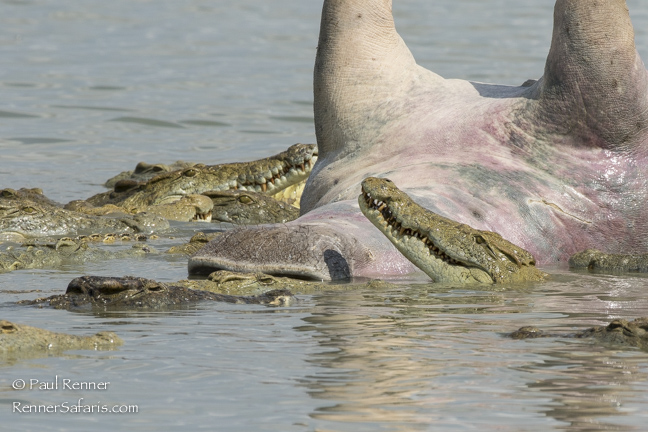 They are fascinating creatures that have survived thousands of years so they must be doing something right!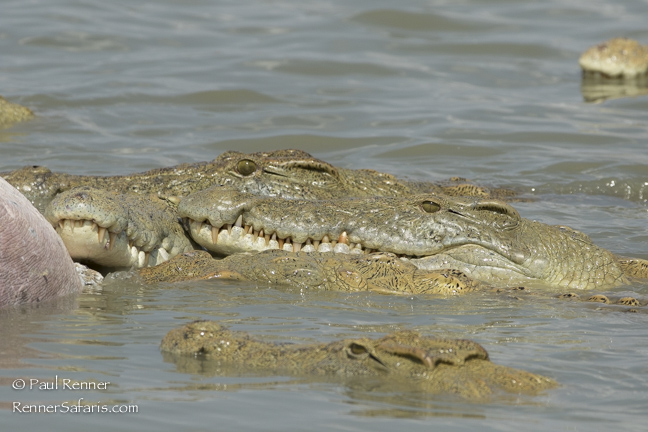 Crocodiles Resting
African Fish Eagles live on many of Africa's waterways. Their shrill call often echoes through the area. This pair was calling to other eagles that would return their calls.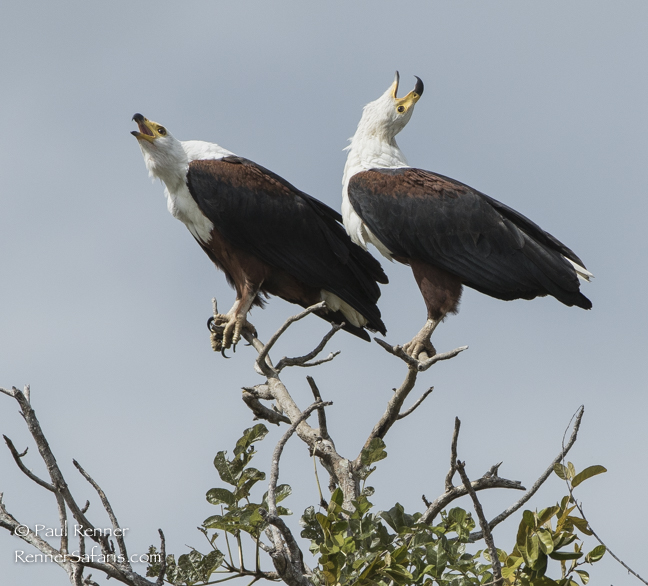 African Fish Eagle
A tree covered island in the Rafiji River was a good safe-haven for hundreds of spoonbills and other storks to use as a rookery where they could safely raise their young.  This mother would take turns feeding first one chick and then the other.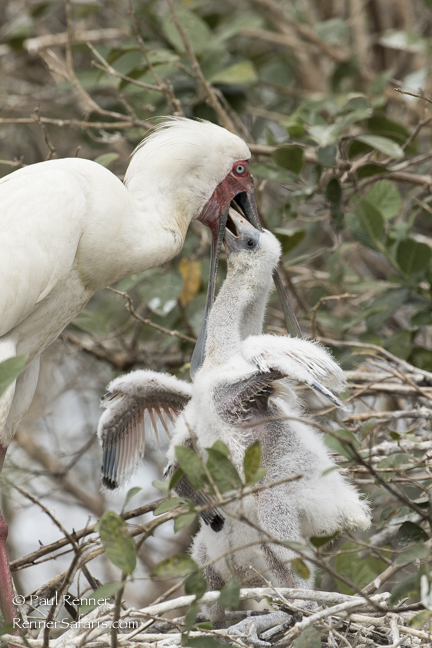 Spoonbill Feeding Chick
It was a beautiful, cold morning in Ngorongoro Crater.  I particularly enjoyed the sunlight on the thin layer of fog as the sun crept over the rim of the crater.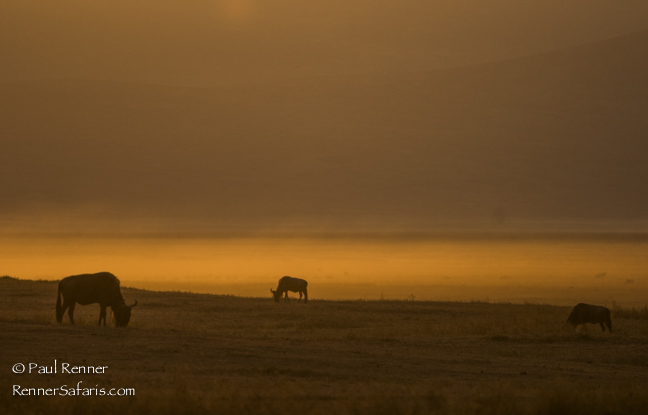 A Tranquil Morning
This is my 11th year of leading African Photo Safaris that offer the very best of Africa. Over 1000 photo enthusiasts and adventurers have enjoyed our trips. These excursions are reasonably priced and include stunning luxury accommodations, as well as international and regional airfare. One unique aspect of my safaris in East Africa is that we seat only three participants per vehicle , allowing ample space for unobstructed game viewing, photography and your equipment.
Another unique feature of our expeditions is that I personally escort each of the trips. We do longer game drives, spending mornings and afternoons in the game reserves, and our evenings are spent around a campfire reminiscing over the day's activities. It also is a time where photographic ideas are shared and tips are given on getting the best results with your camera.
I look forward to hearing from you and hope to welcome you on a unique and unforgettable safari to Africa.
Our safaris make a wonderful graduation gift that will be remembered and cherished for a lifetime!
Please forward the newsletter on to friends who might enjoy it.
For more safari information, prices and itineraries click here.
Please feel free to call me at (949) 295-3136 or contact me by email with any questions you may have regarding our safaris.
I hope that you will be able to join us on one of our safaris in the not so distant future. It will be your trip of a lifetime!
Enjoy each day.
Paul Renner
paulrenner3@cox.net
(949) 295-3136