There are times in life when it is best to just enjoy the moment and what is! One of those moments happened in Tanzania's Serengeti National Park, when a cheetah jumped up on the roof of one of our vehicles to get a better view of gazelle on the surrounding plains, all the while also posing for pictures! We were only a couple of days into the Tanzania portion of our safari when my friends Alex, Joni and Nancy and of course our guide Exaud, had the great fortune to experience one of the rare moments in a lifetime. Cheetahs are not aggressive toward people, so if you are ever lucky enough to experience this behavior with a cheetah, just enjoy and hope someone else is able to take photos because you may not be able to do so if the animal is on the roof above you.
I would say that this safari was for the cats! Big cats, little cats, spotted cats, fast cats, stealthy cats and sleek cats. We had them all!
On an afternoon game drive in the Serengeti, I was thrilled when we came upon two lionesses and the youngest lion cubs that I have ever seen. Their eyes were not yet open so you can imagine my excitement when the mother let each of our vehicles get close enough to for us to photograph the little cubs from a safe distance, as they ventured out of their hiding spot in the reeds in search of mother's milk.
They are difficult to see, but there are more cubs hidden in the reeds to the right of the cub. When our vehicle was there, they chose to remain in the safety of the reeds.
To capture a different perspective, I used one focus point and focused through the blades of grass on the mother's watch full eye.
We still have a few spaces available on some of our trips in 2018. These are some of the best photo safaris in Africa, so I hope that you join us next year for the thrills! Consider giving your loved one or graduate the gift of a lifetime, an African Photo Safari. It is a gift that will be cherished for a lifetime!
A romantic lion couple in Ngorongoro Crater. The huge male with his massive mane, was particularly photogenic.
Two thirsty lionesses and a cub drinking from a muddy puddle.
A lioness had been patiently waiting in the grass along the Seronera River in the Serengeti. Suddenly she was up. In an instant, she ran around the grass that was her cover and surprised an unsuspecting gazelle in the mud at the edge of the river.
To reserve your space on our photo safaris, please call Best Safaris at (800) 757-6625 and ask for Prem Sharma or Gaby Gurrola. Their email is info@bestsafaris.com.
A large herd of wildebeest moving towards the river.
Zebras charging through the water.
Zebra seemed to be everywhere! Quite often, they even posed for us!
Zebras in the Crater.
I always love seeing spots in an acacia tree! Especially when they are attached to a big male leopard.
He was a large male in his territory near our camp!
In the Masai Mara in Kenya, we found a beautiful leopard with her nearly grown cub.
She is accustomed to and unafraid of safari vehicles. This often creates fabulous photo opportunities for us.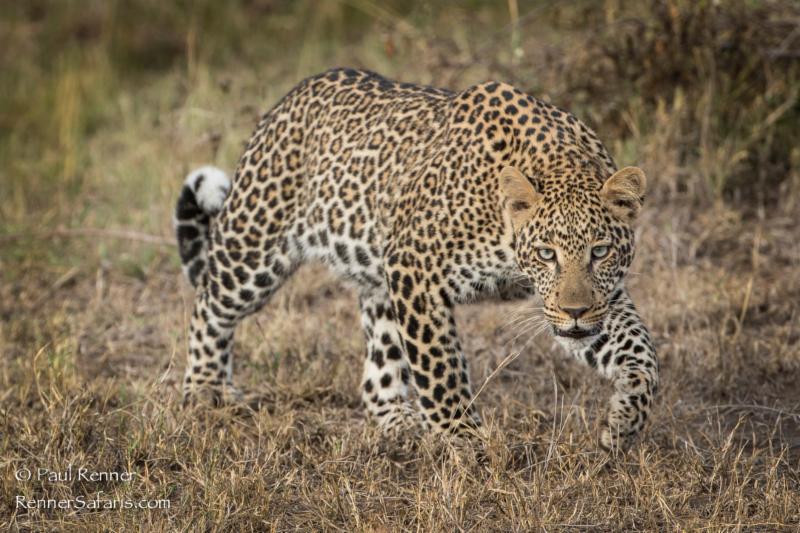 While we were watching, she carried a gazelle to a tree where she could hang it to save for a future meal.
A magnificent lion in Ngorongoro.
Frisky business.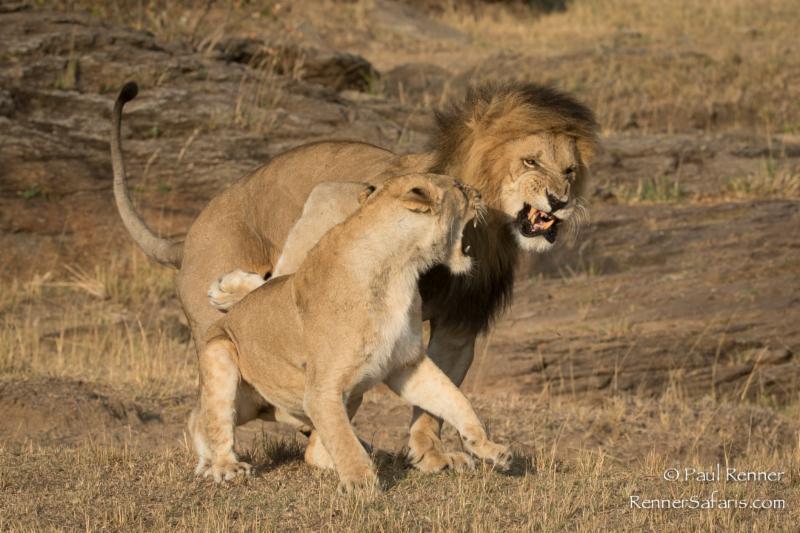 One of two young male lion brothers near our camp in the Serengeti. Our last morning in camp, we were all enjoying breakfast when the two strolled within a hundred yards of where we were enjoying a sumptuous breakfast. They paid no attention to the aroma of freshly cooked bacon and eggs and just kept on walking!
A cheetah and her cub in Tarangire National Park in Tanzania. Do you have a favorite pose? I especially like the dark background.
More cheetahs.
Some of you are aware that I am currently recuperating from double knee replacement surgery, so if you are in Tanzania or Kenya next year and you see something running at full speed across the African plains, be sure to take a second look because it just might be me!
It was after sunset and light was fading quickly when the cheetah gave chase to a Thompson's gazelle. He ran right through a herd of running zebra, which he passed up as though they were standing still, only to have the gazelle escape on the other side of the herd. It was a thrill to watch!
A male vervet monkey. For obvious reasons it is sometimes also called the blue-ball monkey
A male Thompson's gazelle cautiously taking a much needed drink from the Seronera River in the Serengeti.
Secretary Birds at their nest.
Resting zebras.
Lion scanning his territory.
Bring your dreams to reality on a Renner Safari.
I hope you will join me on safari in or 2018 for your African safari adventure of a lifetime!
May your days be filled with fantastic photo adventures and as always, remember to enjoy each day.
If you would like to join us on one of our safaris, contact Best Safaris and speak with Prem Sharma or Gaby Gurolla at (800) 757-6625. Email is info@BestSafaris.com
Please forward the newsletter on to friends who might enjoy it.
For more safari information, prices and itineraries click here.
To reserve your space on our photo safaris, please call Paul Renner at (949) 295-3136, or email him at: paulrenner3@cox.net or ask for Prem Sharma or Gaby Gurrola at Best Safaris (800) 757-6625. The above itinerary dates may be subject to change due to accommodation availability at the time of booking.
Please feel free to call me at (949) 295-3136 or contact me by email with any questions you may have regarding our safaris.
I hope that you will be able to join us on one of our safaris in the not so distant future. It will be your trip of a lifetime!
Enjoy each day.
Paul Renner
paulrenner3@cox.net
(949) 295-3136