BOTSWANA AND ZAMBIA TRAVEL INFORMATION:
REQUIRED DOCUMENTS: All visitors are required to carry a passport that is valid for six months beyond the intended length of stay. There should be sufficient blank pages for entry stamps upon arrival. USA citizens entering South Africa, Botswana and Zambia require a visa, which is granted on arrival. There are no visa fees for South Africa and Botswana. Zambia requires a payment of $35 US dollars in cash for obtaining visa at the time of entry. We recommend that each visitor to Zambia carry the exact amount as sometimes change is not available.
IMPORTANT NOTE ON PASSPORT PAGES: It is the responsibility of each traveler to make sure their passport is valid and has sufficient "VISA" pages to stamp entry visas. Please note the last 3 pages on the passport are "NOT VISA" pages; they are amendment pages, and thus visas cannot be stamped on these pages. There should be at least a minimum of 2 blank (unstamped) "VISA" pages for each country to be visited. Failure to have 2 blank (unstamped) "VISA" pages causes you to run the risk of being denied entry even when in possession of valid passport. South African Immigration requires that the 2 blank pages are facing each other.
——————————————————————————–
HEALTH REQUIREMENTS:
We recommend using only bottled water for drinking or brushing your teeth. This is an easy way to avoid health problems. Also, be careful not to get water into your mouth while taking showers or brushing your teeth.
Currently there is no risk of yellow fever in Botswana. The government of Botswana requires proof of yellow fever vaccination only if you are arriving from a country with risk of yellow fever. This does not include the US. If you are traveling from a country other than the US, check this list to see if you may be required to get the yellow fever vaccine: Countries with risk of yellow fever virus (YFV) transmission. In addition, Anti-Malaria medication is strongly recommended for these countries. We advise you to consult your physician or the Center for Disease Control in Atlanta, Georgia at (404) 639-3311 for any further requirements or recommendations.
——————————————————————————–
INSURANCE: We strongly recommend that you take out travel insurance, which includes curtailment and cancellation cover, as well as medical cover, upon confirming your booking.
——————————————————————————–
WEATHER: During May and June in the countries we will be visiting, the average temperatures range from a cold of 42 degrees at night, to a warm of 82 degrees in the daytime. Bring a warm jacket to wear on the morning game drives because the combination of the wind hitting the open vehicles together with the chilly temperatures can feel very cold. Bring a good jacket and stay warm. May and June are not the rainy season but an occasional rain shower could still be possible.

Average High/Low Temperature  (Fahrenheit)

Jan

Feb

Mar

Apr

May

Jun

Jul

Aug

Sept

Oct

Nov

Dec

Cape Town


H

77

78

76

72

67

64

62

63

65

69

72

75

(South
Africa)

L

63

63

60

56

52

58

57

58

51

54

58

61

Chobe

H

90

89

88

87

82

77

77

83

91

95

94

91

(Botswana)

L

67

66

63

58

49

42

42

47

55

64

66

66

Johannesburg


H

77

75

74

69

66

60

61

65

71

73

74

76

(South
Africa)

L

60

59

58

53

48

42

42

46

51

54

56

59

Victoria Falls


H

83

82

82

78

75

71

71

75

81

83

84

82

(Zambia)

L

64

64

63

59

54

49

49

52

58

61

64

64
——————————————————————————–
DEPARTURE TAXES: South Africa and Botswana do not levy airport taxes upon departure. Zambia has an International airport tax of US$25 and a domestic airport tax of US$ 8.
New in 2011: National Airports Corporation have added a Security Charge payable at all NACL airports. US $3 per person per sector (Domestic flights)
——————————————————————————–
LANGUAGE & CULTURE: English is widely spoken in the Southern African countries although the local languages are also spoken by the people. Your guides have good knowledge of English and all guided safaris are conducted in English.
——————————————————————————–
CLOTHING, ETC.
Dress in Africa is casual. Clothing should be lightweight, loose fitting and of "breathable" fabrics, such as cotton. While out in the bush you will find that neutral colors are best because they blend in with the natural surroundings and show the least amount of dirt. Also, remember that bugs are more attracted to bright colors. Laundry service is available at most hotels, lodges and camps at a nominal fee. At some of the camps, they are unable to wash intimate underclothes. There are however, facilities in the bathrooms to assist in washing your own. While on safari, only 4 or 5 changes of clothes are necessary. For the daytime, long pants or shorts and T-shirts are most comfortable. Bring a good, warm jacket for early morning games drives. The nights can be cold, so you my want to bring some warm pajamas. In the evening, long pants and long-sleeve shirts or lightweight sweatshirt is good. Comfortable walking or running shoes are acceptable, however, if you think you might do any of the walking safaris at the lodges, hiking boots/shoes would be advisable for that.
Some lodges and camps have a supply of insect repellent, however, it is a good idea to bring some with you. Many lodges and camps have mosquito nets in the bedrooms. The mosquitoes usually come out around sunset.
——————————————————————————–
FOOD & WATER
We recommend using only bottled water for drinking and brushing your teeth. This is an easy way to avoid health problems. Bottled water, beer, wine, cocktails and soft drinks are also available for purchase from the camps/lodges.
The cuisine throughout is outstanding.
——————————————————————————–
LUGGAGE
If your seats are in the economy section of the aircraft, most major airlines that fly into Johannesburg, allow one bag per person as checked baggage. Each bag must not exceed 50 lbs. Bag dimensions are up to 35.5 x 29.5 x 16 inches (Up to 90 x 75 x 43cm ). If you have purchased seats in business class or higher, you may be entitled to extra baggage allowances. Please confirm this with your airlines.
We recommend baggage be kept to a minimum, one main checked bag, and your carry on luggage should be adequate.
IMPORTANT NOTE: When flying between parks where light aircraft are used, the bags need to be small, soft sided bags. Unfortunately large suitcases and rigid, inflexible luggage cannot be transported in the aircraft.
Most city hotels have storage space for excess luggage not required on safari. In addition, Johannesburg airport has lockers for storage at a fee.
——————————————————————————–
CURRENCY & BANKING
CREDIT CARDS: Major credit cards are accepted at hotels, shops and restaurants. Certain lodges and restaurants do not accept payment by Diners or American Express. Many lodges and camps will add a surcharge of about 5% to the total cost if paying by credit card.
If you plan to use your credit cards in Africa, before you leave home contact your credit card company and tell them where you are going and the dates you will be traveling. This should keep your card from being denied when you want to use it.
BANKS: Major hotels have foreign exchange facilities and most shops, and lodges will accept credit cards or cash US dollars.
——————————————————————————–
COMMUNICATION:
Major hotels and businesses have a fax service. Hotels levy a substantial surcharge on all calls. Lodges in the more remote areas of Botswana such as the Okavango Delta do not have telephonic communication facilities. The lodges are able to communicate with the "outside world" via two-way radio for emergency only.
——————————————————————————–
SECURITY:
As in most major cities, sensible security precautions should be taken. Keep a close watch on purses, handbags, wallets and cameras. Avoid wearing expensive or flashy jewelry. It is advisable to hire a taxi if you wish to move around at night and for your personal safety, avoid deserted lanes and streets.
——————————————————————————–
ELECTRICITY:
Voltage Electricity is supplied at 220/240 volts AC, 50hz. The lodges generally rely on generator power for lighting and refrigeration but this power only runs at critical times of the day. To use an electrical device in Southern Africa (where the voltage can be 220/230/240) and the appliance is multi-voltage (says input 100-240 volts) or dual voltage (says input 125/250 volts), you will need an adapter plug (shown below) to plug your power strip into. The input voltage (and the watts or amps) information can usually be found on the device label but it could be anywhere on the appliance. It is often on the main body of the appliance in the same color where it can be difficult to see. Some dual voltage appliances have switches and some others are self-sensing, switching to the higher voltages for you automatically.
This has proven to be a good 220 volt power strip with no problems on our safaris. I highly recommend that you bring one of these and the adapter shown below.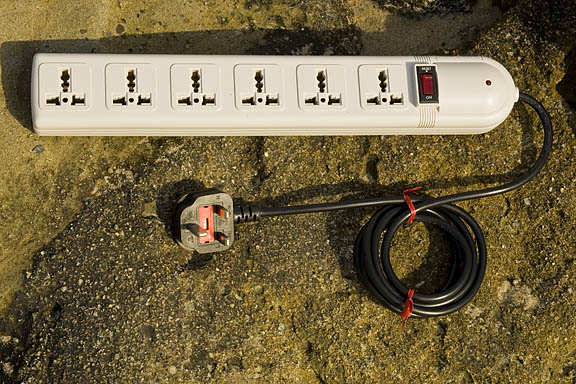 You can order the power strip here from Travel Oasis and receive it in a few days.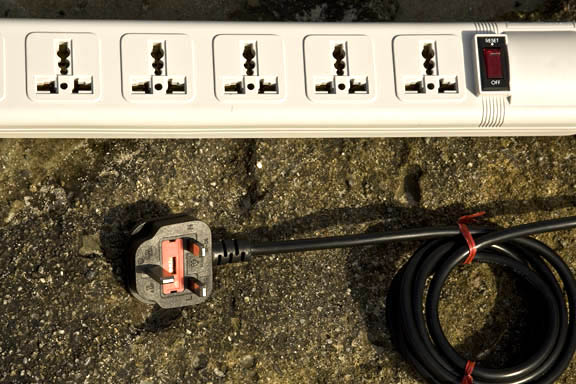 Note the three rectangular prongs on the plug that fit into the back of the adapters needed to fit into the plugs from each country.
South Africa and the lodges we stay at in Botswana use plugs that will accept the WA-10L adapter below. It is best to bring both the adapter and the power strip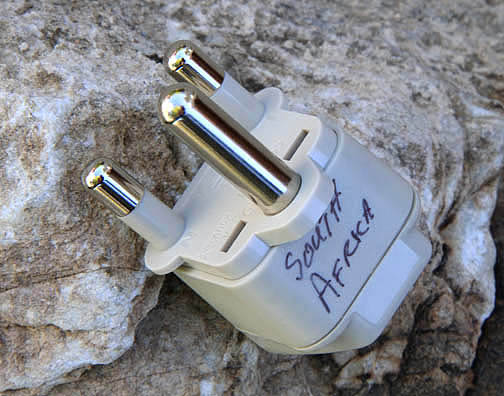 You can also order this WA-10L adapter from Travel Oasis and receive it in a few days.
It is best if the female end of the all the adapters look like the one below,  because it will accept a grounded plug. This configuration of the plug accepts a standard US three pronged plug (grounded) or two pronged plug (ungrounded). Whatever you plug into it should be rated for at least 220 volts. A transformer will be required for any device rated at only 110 volts.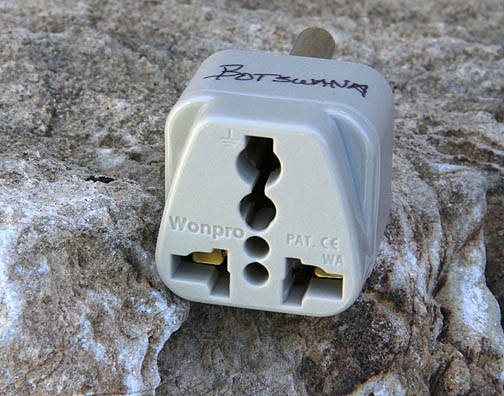 Botswana Camps:
Important: You will want to bring extra batteries for your cameras to leave charging while we are out on our game viewing activities. Read below.
As the camps are situated in remote areas, they need to generate electricity, for the most part by generator and in some instances solar power. Due to their noise, these generators are normally run during the day, when guests are out of camp on activities. In the evenings, the generator is switched off, and the camps run on the inverter system whereby batteries provide 220V power. Batteries may be recharged in camp during the day. Depending upon the electricity needed for camp operations, it will be be possible to recharge video and camera batteries during the day, but charging times will be at the discretion of the camp manager. Be sure you bring a 3 round prong adapter with you and also be sure to bring a spare battery for use whilst the other battery is being charged in camp, to avoid missing out on any photographic opportunities.
Please note that it is not possible to use appliances such as hairdryers and electric shavers in the delta camps as the power is insufficient to charge and usage may result in the power tripping at the whole camp.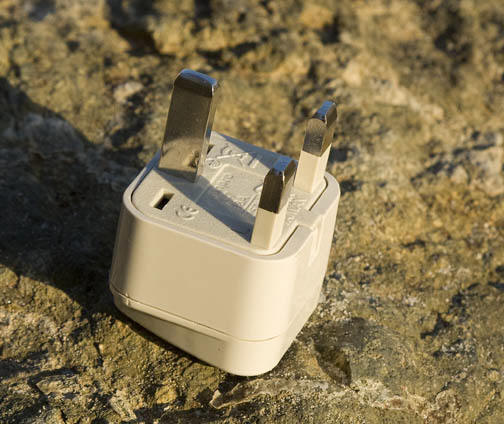 Zambia, Kenya and Tanzania and England~ three rectangular prongs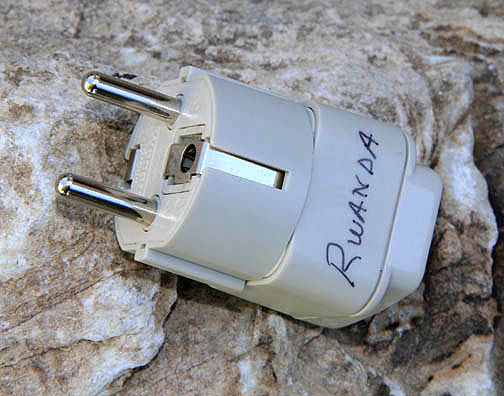 Zambia & Rwanda ~ Believe it or not, some countries sometimes use different types of plugs in the same country.
If you prefer, you can buy a universal adapter available at many hardware or travel stores. The problem with these, is that most of them will not accommodate a grounded plug so purchase with caution.
For computers, battery chargers or appliances rated up to 240 volts, a power strip such as the one shown above is ideal. The power strip and adapters are available from Travel Oasis, and can be shipped to you in just a few days. The plug at the end of the chord has three rectangular prongs, which fit into the female end of the electrical adapters. I recommend using a power strip to anyone planning to plug in multiple devices, such as computers and battery chargers. The plugs in the power strip itself, will accept many types of plugs including the two and three pronged plugs used in the United States.  If your electrical device is rated for 110 volts you will need to use an electrical converter. Depending on the type of device, it may be less expensive to buy a new appliance than a converter. It will usually also be lighter weight than a converter.
If you plan to bring a hairdryer, electric shaver, or any appliances rated for only 110 volts you will need to bring your own electrical converter and adapter (universal adapter with three square prongs).
Electrical Adapter and transformer:
If your electrical device is listed at 110 volts you will need to use a transformer and an electrical adapter.
Most U.S. appliances used in world travel are designed to handle both the U.S. voltage and the higher voltage of 220-250 used in foreign countries. Most devices switch automatically, but some have switches that need to be set to the higher voltage ratings.
Furthermore, be aware that, if your device is designed for world travel, you should not use a voltage converter. Using one may cause both the converter and the appliance to malfunction.
——————————————————————————–
TIPPING / GRATUITIES:
TIPPING / GRATUITIES: This is purely discretionary. It is appropriate if you feel that the measure of service you received warrants a show of your personal appreciation. Below is a brief guideline to assist you:
a) Vehicle driver and game tracker at Safari Lodges and Camps:
We recommend a $5 US tip to each, per guest per activity. This is a total of $10 per game viewing activity or game drive.
b) The General Safari Camp / Lodge Staff: Here we recommend about US $10 per guest per day for safari camps. This should be placed in the communal tipping box to be distributed equally amongst all the staff at a later stage.
c) Transfer and Touring Driver/guides in Johannesburg, Livingstone and Cape Town Porters $1 per bag
Transfer Driver $1 to $2 per person
Half day tour guide $4 per person
Full day tour guide $8 per person
d) Restaurants / Hotels: 10% is a customary tip for meals at major cities, hotels and restaurants depending on the level of service. At the safari lodges and camps, while on safari all meals are included as per itinerary. Tips to waiters are entirely at your discretion.
Most major hotels and restaurants include a service charge. A gratuity of 10% is customary at restaurants and bars if a service charge is not included. On our safaris, the tips for the meals are included, however, the tips for the drinks you purchase are not included.
——————————————————————————–
SOUVENIRS:
As in most African countries, there is a huge range of souvenirs to be purchased along the roadside. These are handmade, but mass produced, so always check the quality before buying. Materials include ebony, soapstone and ivory. Note that it is illegal to export products that contain any elements of elephant, rhino or sea turtle. Tribal souvenirs are available; including beaded jewelry, kiondas (woven sisal baskets) and natural or decorated calabashes (dried gourds). Bright sarongs (kangas or kikois) make good wearable souvenirs. If you are after quality artwork, it is probably wisest to look in galleries and shops that deal in it, rather than buying on the roadside markets.
——————————————————————————–
SUGGESTED PACKING LIST:
Important Documents
Airline tickets
Passport and visa for each country you will be visiting
Photo copies of your passport, credit cards, and airline tickets (to be kept separately from the originals)
Vaccination certificates
Emergency phone numbers (will be in itinerary given to you by Somak Safaris)
Trip Itinerary
Extra passport photos
Photos of your luggage in case it gets lost
Personal Items
Your prescription medications (In your carry on luggage, bring enough to last through the entire trip)
3-5 changes of casual clothing (cotton shorts, T-shirts, long-sleeve shirts, sweater or jacket, slacks, sport shirts, blouses, dress, etc.) Avoid bright colors and whites. Clothing in neutral colors or earth tones: khaki, light brown, tan or green is best for improved wildlife viewing on game drives and they are also less likely to attract bugs.
Laundry facilities are available at the lodges when we stay for two or more nights.
Two pairs of comfortable shoes and a pair of flip-flops or sandals
If you have back problems, bring an extra pillow or cushion for the seats in the safari vehicles.
Compression socks for use while flying
Swim suit and cover-up
Hat with a visor
Sunglasses (neck string comes in quite handy)
Sun Screen
Hand Sanitizer
Medical history
Copies of prescriptions
Malaria Tablets
Insect repellent
Eye drops (the sun is very bright and it will be dusty)
Extra contact lenses and contact lens cleaning solution
Skin and Hair moisturizers
Toothbrush/toothpaste/dental floss
Dust Mask (especially if you suffer from allergies)
Throat Lozenges: (for sore throat from dust or colds)
Imodium (or other Anti-diarrhea medicine)
Personal medications (there are basic first aid kits in the lodges and camps)
An extra pair of glasses/contact lenses if you wear them
Large zip-lock bags (great for keeping film and camera equipment clean, storing wet swim suits and dirty shoes, etc.)
Pre-moistened small individually wrapped novelettes for quick freshen ups.
Small travel towel
Small scissors ( go to top )
Tweezers
Lip balm or chap stick
Q tips and cotton balls
Razor & shaving cream/gel
Birth control (enough to last through your trip)
Sanitary requirements (shops are sometimes few and far between, and very basic)
Band aids and moleskin
Cold/flu tablets
Allergy remedy
Ace bandage
Vitamins
Medicine for headache and/or pain
Antiseptic cream
Motion sickness tablets
Heartburn remedy
Re-hydration salts
Small compass
Book to read between game viewing or during leisure time
Money Belt
Electrical adapter (3 square prongs) and a power strip for charging your equipment
Mini sewing kit
Binoculars
Small Flashlight with extra batteries and bulbs
Small calculator
Pen/pencil
Travel Alarm Clock (small, but loud enough to wake you )
Extra batteries
Diary to record your favorite memories
Small stickers to label your used films
Phone card and international access numbers
(Top)
——————————————————————————–
PHOTOGRAPHY:
If you are still shooting film bring plenty of it, and extra batteries as both items are very expensive in Africa. Make sure you have some way of protecting your camera from dust while on safari. Most game viewing is done in the early morning and late afternoon and 100 or 200 ASA film is probably the best to use. A telephoto or zoom lens and a wide angle lens are recommended for some truly outstanding and impressive photographs. If you are using digital cameras be sure to bring extra memory cards, rechargeable batteries and charger, plus a way to down load and store your photos from the camera, The lodges have electricity so charging batteries and using laptops is no problem.
Do not take photographs of military installations, police stations, government facilities, airports, border post soldiers or police. Always ask before taking photographs of people. They will most likely want to charge you, so ask your driver to negotiate for you.
Suggested Photography Equipment
Camera
Back up camera (This isn't essential but you would hate to be in Africa and have your camera malfunction.)
Film Those that are still shooting film, should bring lots of it!
Extra batteries for camera
Wide angle lens (Most of your shooting will be with telephotos, but wide angles always have their place. One thing I like to do is photograph people, like tribesmen, from a low angle with a wide angle lens. )
Telephoto lens (I think you should have at least a 300mm capability, but 400mm or longer would be better. Much of our shooting will not require long lenses, since animals are often close to the vehicle – within a 200mm range for nice close-ups. But there are, indeed, quite a few situations where you will want and need a longer lens. (One solution that gets around spending a fortune for a long telephoto is to use a 200mm lens with a 1.4x or 2x teleconverter. If you have a camera with a chip that is not full frame, the magnification factor plus the teleconverter will give you a significant focal length. For example, if you have a Canon 20D, or 30D a 200mm lens becomes a 320mm (200 x 1.6x = 320mm), and then with a 1.4x converter that equals a 512mm telephoto.)
Tripod I recommend using a sturdy, lightweight tripod with a good ball head for photographing wildlife from the safari vehicle. I use my tripod as a monopod, when necessary, in the vehicle and as a tripod around the camps and lodges. I always carry one because "you never know" when it might be needed. A bean bag wont work well in southern Africa because with the design of the open vehicles, there is not a good place to rest it. The ballhead I use is made by Really Right Stuff. It is relatively small, yet light weight, easy to use and very stable. I love using it! Mine is the model BH-55 Full-Size Ballhead with Lever-Release Clamp.
Flash and extra batteries for it.
Filters: Skylight or UV filters that protect your lenses, Polarizing Filter, Split image neutral density filter.
Compact Flash or SD cards: I recommend 16 or 32 gig cards, especially for cameras with 8 megabytes and higher. Bring as many as you think you will need and then one or two extra. If you are shooting RAW it is not hard to shoot 16 gigs a day.
Sensor cleaning materials: Hand blower, Sensor swabs, pec pads with the liquid Eclipse, Sensor brush, Arctic Butterfly, etc. This is essential to keep your sensor free of dust specs. I will be bringing three things: hand blower, pec pads and sensor cleaner.
Portable hard drive or laptop: This is for dumping your images from the flash card so you can re-use the card. I strongly suggest redundancy, meaning two portable hard drives or a laptop and a portable hard drive so you have two sets of your images in the event of equipment failure or computer crash. I realize a laptop is one more large, vulnerable thing to carry, and therefore you need to think carefully about whether or not to bring one. If you don't want to carry one, that's perfectly fine, but make sure that you have redundancy in storing your digital images. Once you erase a flash card and put new images on it, the previously erased shots are gone forever. Bring more storage than you think you will ever need. On these photo safaris it is not uncommon for people to shoot 10 to15 thousand images. For that you will need lots of storage space!
Extra camera batteries
Battery charger
Power strip: (This is so you can charge several things at one time.)
Electrical adapter with three rectangular prongs (This fits into the Kenyan electrical sockets so you can plug in your accessories. I have been very happy with this one from Travel Oasis. Also, using this one eliminates the need for an adapter.
Camera manual: (Bring this and keep it with you during the game drives!)
Crucial electrical connecting cables: Check and double check that you have all the cables you need.
Small paint brush: (I use this for dusting camera off because there can be a lot of dust in Africa on the game drives.)
Pillow case: (This is for placing the camera inside in areas of a lot of dust.)
Lens cleaning: tissue or microfiber cloth
Binoculars: A good pair that does not hurt your eyes is very nice for watching wildlife if they are at a distance.