Botswana Wildlife Photo Safari
ESCORTED BY PROFESSIONAL WILDLIFE PHOTOGRAPHER PAUL RENNER
May 12-24, 2015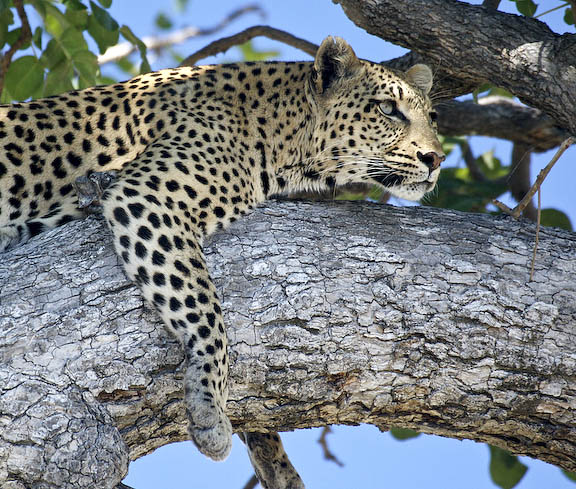 Join us on this exciting African wildlife photo safari that begins as we fly into Savute, bordered by Chobe National Park to the east and the Okavango Delta to the west. Savute offers one of the finest wildlife photo and nature observing opportunities in Africa. While relaxing between game drives, watch and photograph from the deck as elephants and other animals come to drink at the watering hole right in front of the dining area! After three nights at Savute we fly to Camp Moremi, located in the Moremi Game Reserve in the heart of Botswana's Okavango Delta. It is a protected area renowned for its frequent sighting of lion, leopard and African wild Dogs. Here in the Delta, on boat cruises you will enjoy sightings of wildlife together with spectacular scenery while making your way through gorgeous channels in tall Papyrus grass growing in the crystal clear waters of the Okavango Delta. Our next short flight takes us to Linyanti, a superb game viewing area featuring large herds of buffalo, elephants, lions and wild dogs. After enjoying our stay at Linyanti, we fly north to Chobe Game Lodge overlooking the Chobe River. It is the only permanent safari lodge located inside Chobe National Park. In addition to vast herds of buffalo, antelope, zebra, and giraffe these areas have good concentrations of sable antelope, lion, leopard, impala, hippo and wild dog. Chobe is home to the largest concentration of elephant in Africa. From  In my opinion this area is one of Africa crown jewels. This will be a spectacular photo safari and should not be missed!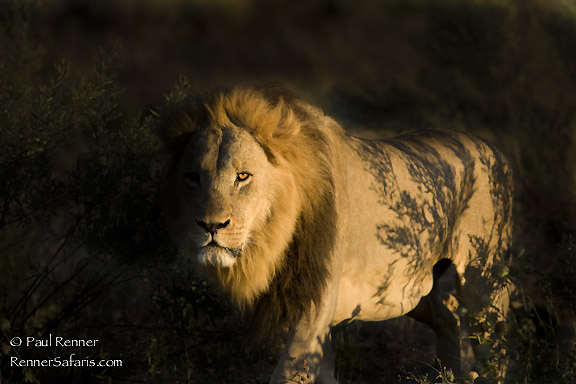 Our safari will include game viewing in open 4×4 vehicles, and boat excursions on the scenic waterways of the Okavango Delta and on the Chobe River.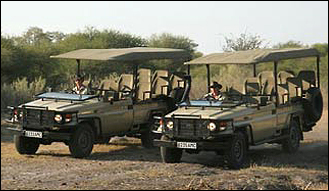 While on safari in Botswana, we fly on smaller aircraft ( included in tour price) between the lodges thereby avoiding long drives on rough roads. This also affords us more time on game drives. (Higher weight limits for photo equipment on the flights is also included)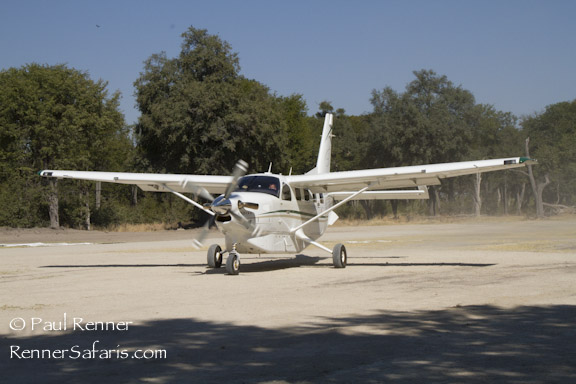 TOUR PRICE:
Safari Price: $10,520 (based on double occupancy) (Single Room Supplement – $3215) Deposit to confirm registration: $2500 per person (Deposit is non-refundable) (Above prices based on payment by check. Extra service fee will apply if paid by credit card)
Tour Price includes:
Regional flights – Johannesburg/Maun-Kasane/Johannesburg Chartered flights – Maun/Savute/Moremi/Linyante/Kasane Accommodations as per itinerary Meet & Assist at Johannesburg on arrival Transfers to/from airport/hotel/camps Professional English-speaking tour guides and drivers Game drives in open safari vehicles All National Parks and Game Reserve entrance fees Meals as listed per itinerary Luggage allowance is 110 pounds per person including carry-ons in Botswana Luxury accommodation in Botswana with 2 game viewing activities daily, all drinks (excluding premium brands) laundry, medical evacuation insurance, park fees Group size limited to 12 participants Savute Safari Lodge, Camp Moremi, Linyanti Bush Camp and Chobe Game Lodge include: accommodations, all meals, 2 game viewing activities daily, all drinks (excluding premium brands) laundry, medical evacuation insurance, park fees
Excludes: 
International airfares from USA (Estimated at about $1360 plus taxes) Departure taxes (taxes for regional flights estimated at $198) Local Airport tax Visas – required for Zambia (if needed) Beverages other than specified Tips for driver/guides, gratuities to porters and waiters All items of a personal nature and everything else not mentioned Travel insurance, applicable visas, all items of a personal nature (e.g. telephone, fax, etc.) Price of charter flights to and from the parks is subject to currency fluctuations, fuel price increases and navigation and departure tax increases. Price quoted is valid only for dates specified and subject to availability at time of booking.
SAFARI DAILY ITINERARY:
Botswana Wildlife Photo Safari
May 12-24, 2015
ESCORTED BY WILDLIFE PHOTOGRAPHER PAUL RENNER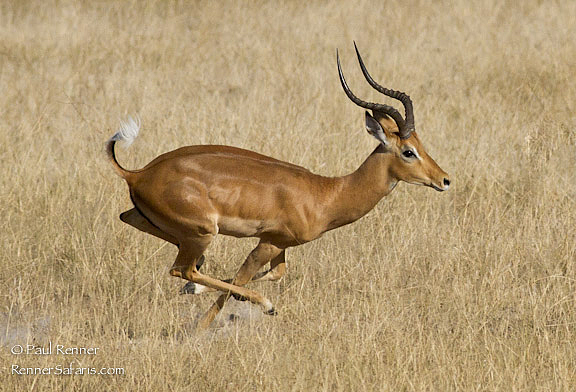 Tuesday, May 12:  Johannesburg
Arrive at Johannesburg International Airport where the group will be met by our representative and transfer to your hotel located near the airport.  Rest of the day at leisure.  SOUTHERN SUN O.R. TAMBO AIRPORT HOTEL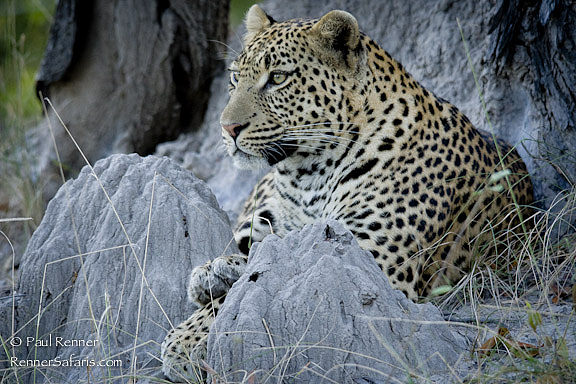 Wednesday, May 13: Savute – Chobe National Park
Take your complimentary shuttle to the airport and connect with your flight to Maun.  Arrive in Maun where our representative will assist you to connect with your flight to Savute Safari Lodge. Lunch is followed by an afternoon game drive. The Savute area in Botswana is part of the Chobe National Park and boasts some of the most fascinating wildlife interactions in Africa. The Savute is unique in its erratic behavior, known for its mysterious channel that runs for almost 50 miles from the Linyanti Swamp before entering the Mababe Depression at the Savute Marsh. The Savute Marsh has been dry for more than twenty years but it is a wildlife haven, in particular during the rainy season when thousands of animals move in to feed on the lush new grass. SAVUTE SAFARI LODGE (BLD)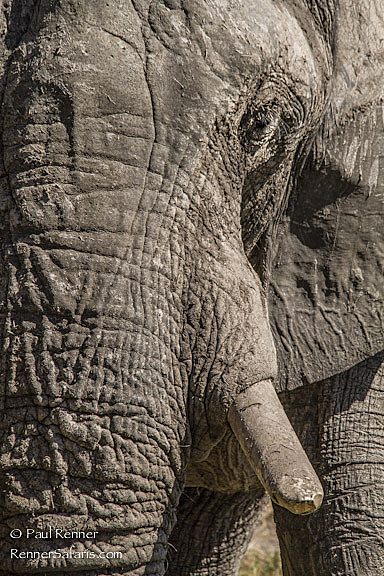 It is on the banks of Botswana's fabled Stolen River, that you will find Savute Safari Lodge in a setting of singular beauty. The often dry Savute channel is part of the dynamic Savute eco system renowned for its large concentration of elephant and lion and their troubled relationship. Savute's signature expansive glass sliding doors and viewing decks were inspired by the striking panorama. Whether seen in the dry season when it can appear desert-like and barren beyond belief or after the rain on one of those crystal clear days across the vivid green of new grass, the impression is always breathtaking.
Thursday/Friday, May 14/15: Savute -Chobe National Park
Awake early in the morning for breakfast and the game viewing activity. Spend the morning focusing your lens on the incredible variety of wildlife and flora of this region. Relax until the afternoon game viewing activity when photographic opportunities will abound once again. Enjoy dinner back at the lodge. SAVUTE SAFARI LODGE (BLD)
Saturday, May 16: Moremi Game Reserve
After breakfast and the morning game viewing activity take the chartered flight to to Camp Moremi. Arrive in time for lunch and an afternoon activity.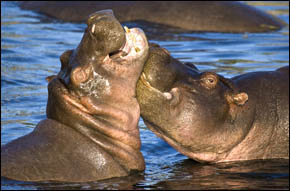 The Moremi Reserve is rated as one of Africa's finest game-viewing areas, offering sanctuary to abundant herds of elephant, sable, giraffe, tsessebe, lechwe, wildebeest, impala and waterbuck. Lion, leopard, cheetah, wild dog and hyena complete the picture. Birding is quite spectacular, especially during spring and summer when the migrants breed. Return back to the camp with time to freshen up in your tent before enjoying dinner.  CAMP MOREMI (BLD)
Peering out beneath giant ebony trees, Camp Moremi brings true meaning to the word safari in the Xaxanaka area of Moremi Game Reserve. Here, where the life-giving waters of the Okavango meet up with the vast Kalahari, ancient Mopane forests, open grassland, seasonal floodplains and Riverine habitats have formed, creating one of the most magnificent and welcoming animal sanctuaries in all of Africa. Shaded by giant ebony trees, the magnificent Moremi tree lodge is an elegant elevated thatch and timber structure, consisting of a main lounge, wildlife reference library, dining room and cocktail bar.
Sunday/Monday , May 17/18: Moremi Game Reserve
Awake early for a quick breakfast and the game viewing activity, which could be by an open 4×4 land rover, powerboat or traditional dugout canoe (mokoro) on the Okavango Delta's waterways. Spend time relaxing around the pool or catch up on your reading. Depart on the afternoon game viewing activity before returning back to camp for dinner. Enjoy after dinner drinks around the campfire. CAMP MOREMI (BLD)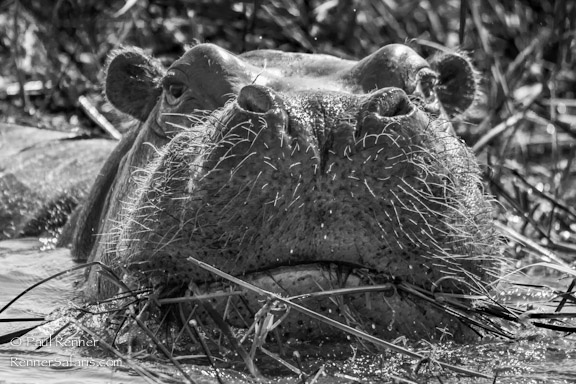 Tuesday, May 19: Linyanti Swamps
After breakfast and the morning game viewing activity take the chartered flight to to Linyanti Bush Camp. You will be met at the airstrip by your guide and from there it is a game drive enroute to the camp. The Linyanti Swamps are one of the most attractive areas in the park. The marshes are the only water sources for miles and so have become the main draw-card for both water adapted wildlife and desert adapted species, vast birdlife species and the ability to do a diversity of activities. LINYANTI BUSH CAMP (BLD)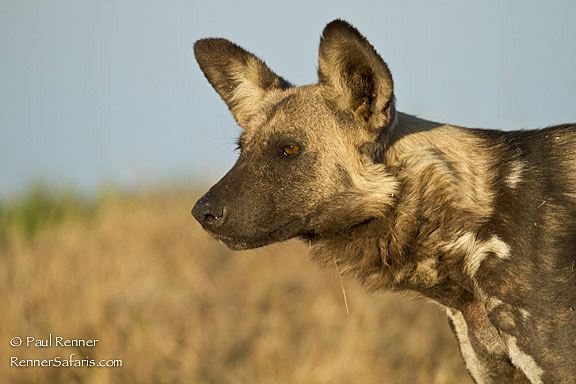 Linyanti Bush Camp is a small and intimate allowing for a personalized and exclusive experience in a private concession away from the main tourist route. This also creates perfect atmosphere for an authentic and wild safari experience. The Camp's location on a private reserve allows for off road game drives and night drives in addition to the usual game drives, game walk, fishing, and mokoro excursions and boating. The area is home to large populations of elephant and buffalo that congregate in vast numbers especially during the dry season. Lion, sable, roan, leopard, wild dog, and a number of the plains game are also common sights in this area. The rare and elusive sitatunga antelope, red lechwe, hippo and crocodile can be found in the surrounding marshes. 
Wednesday, May 20: Linyanti Swamps
Awake early in the morning for breakfast and the game viewing activity. Spend the day relaxing around the camp before the afternoon game viewing activity. Enjoy dinner at the camp. LINYANTI BUSH CAMP (BLD)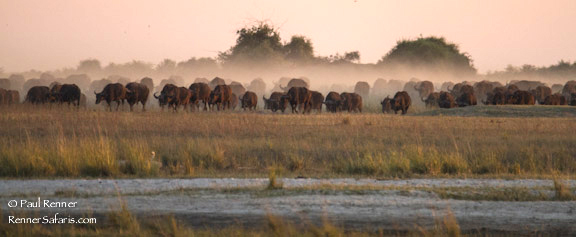 Thursday, May 21: Chobe National Park
After breakfast and the morning game viewing activity take the chartered flight to Kasane Airport. On arrival you will be transferred to Chobe Game Lodge. Arrive in time for lunch and the afternoon game viewing activity, which is either a river cruise or a 4×4 game drive. Return back to the lodge for dinner. CHOBE GAME LODGE (BLD)
The Chobe National Park is renowned for Africa's largest concentration of Elephants and is an all year round big game and birding destination. Picturesquely situated about 50 miles west of the Victoria Falls, overlooking the Chobe River and the Caprivi floodplains, the iconic Chobe Game Lodge is the only permanent safari lodge within the Chobe National Park.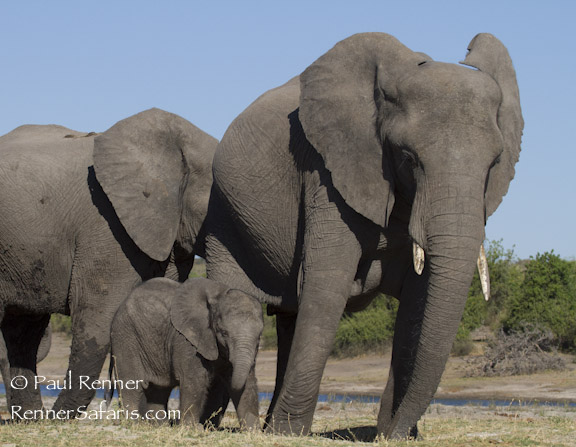 Friday/Saturday, May 22/23: Chobe National Park
Awake early in the morning for breakfast and the game viewing activity. Spend the day relaxing around the pool before the afternoon game viewing activity. Enjoy dinner at the lodge. CHOBE GAME LODGE (BLD)
Sunday, May 24: Kasane- Johannesburg – Depart
Morning activity followed by breakfast. Transfer to Kasane Airport for your flight to Johannesburg.  Arrive Johannesburg Airport where you will connect your flight home (B)
For more information and reservations: Contact Paul Renner at 949.295.3136
Email: paulrenner3@cox.net
OR
Gaby or Prem at Best Safaris – 800.757.6625
CST # 2073854-40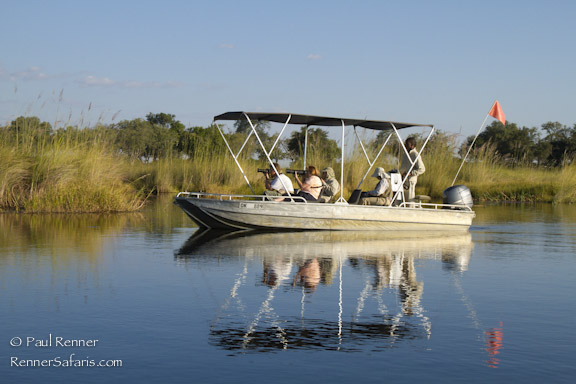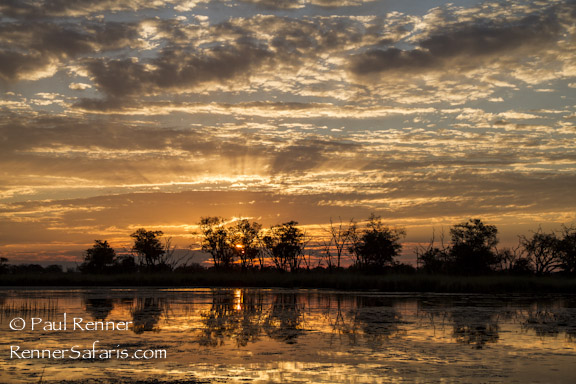 Sunset in the Okavango Delta