Renner Safaris
Dream, Explore, Discover
African Safari Photos from Namibia
Namibia is a peaceful, desert land renowned for stunning  landscapes and  tremendous wildlife! We had a wonderful group of people, most of whom had also just finished our South African safari then stayed on with me in Namibia. We had the opportunity to photograph not only wildlife but also a wide variety of beautiful landscapes.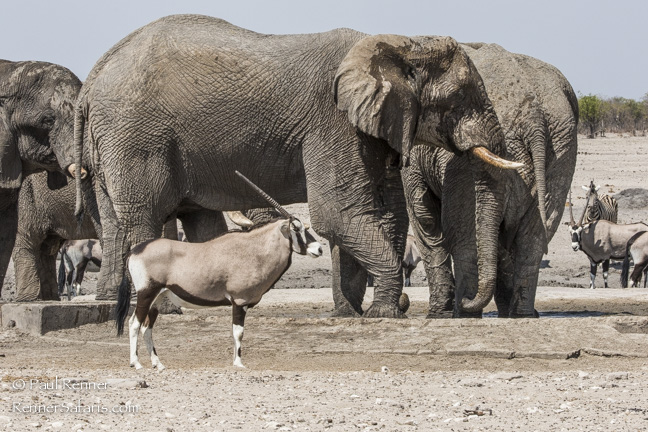 Gorgeous sand dunes tower a thousand feet above the desert floor. Early morning and evening light can be spectacular on the s-shaped curves on the dunes!
Etosha and other parks are teaming with fascinating wildlife that by all appearances, actually get along in an orderly fashion!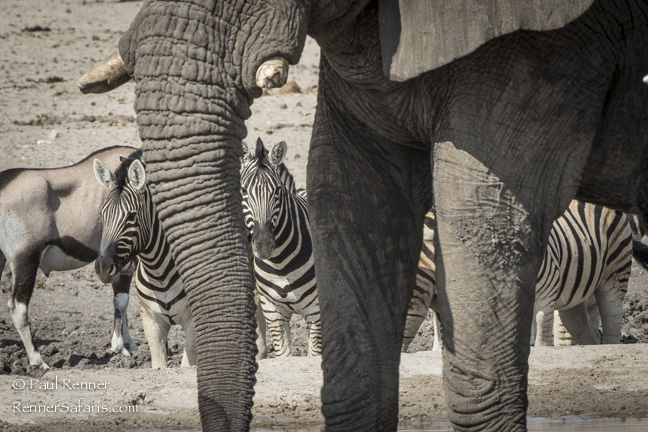 In Namibia, water is an extremely precious commodity and enjoyed at each opportunity.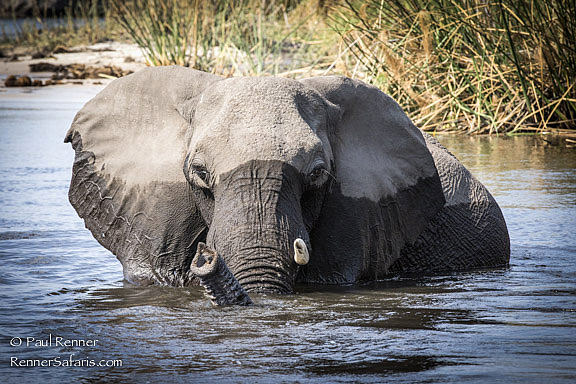 Namibia is a desert climate and water is scarce. Instead of driving and searching for animals as we do in other countries, we drive to waterholes where wildlife comes to drink.  I enjoy photographing at water holes because when winds are calm, there are often wonderful reflections.
 Springbok entering the pond at Okaukuejo.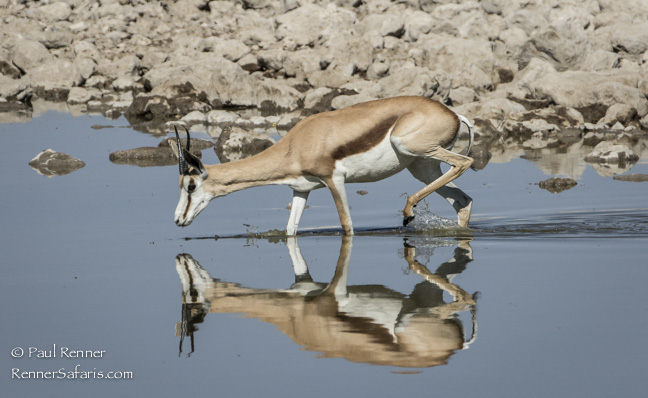 Greater Kudu and Springbok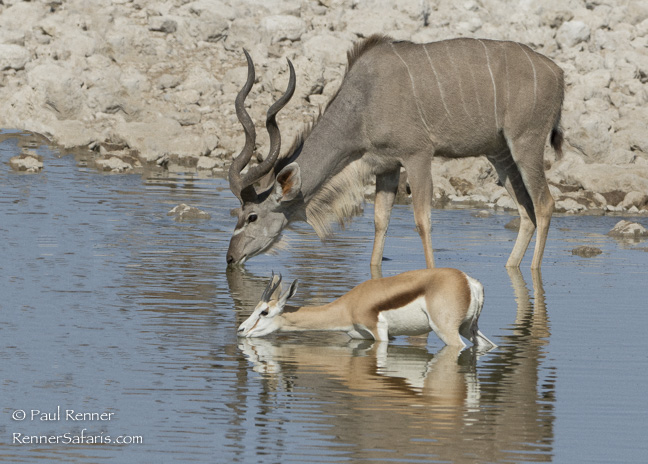 Elephant's massive feet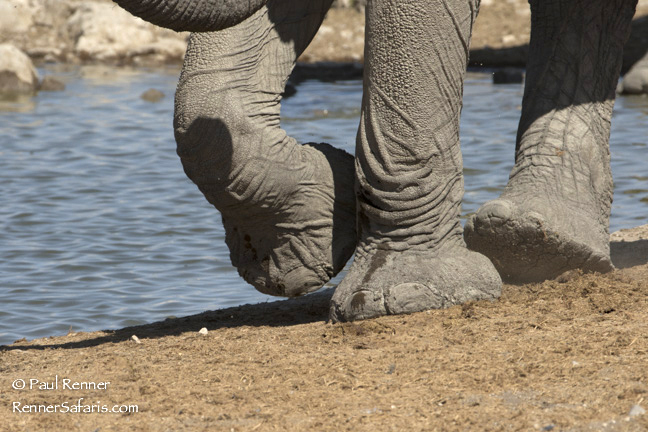 Springbok resting in a shady spot under a tree.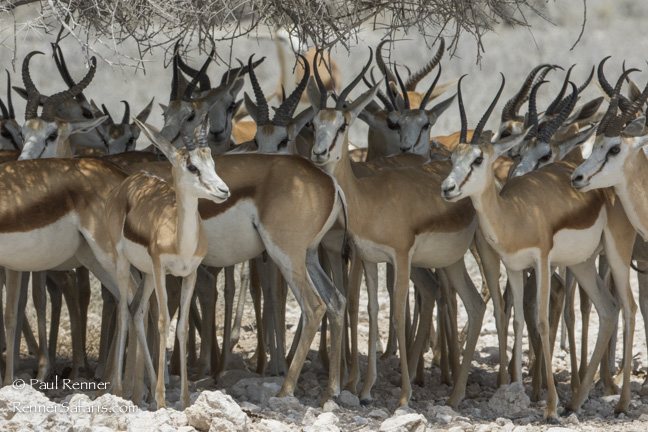 Sociable Weaver nests built into a Quiver tree.  There can be up to 500 birds nesting in one tree.  They return each year and build more to the nest.  The nests have been known to weigh in excess of 1000 pounds.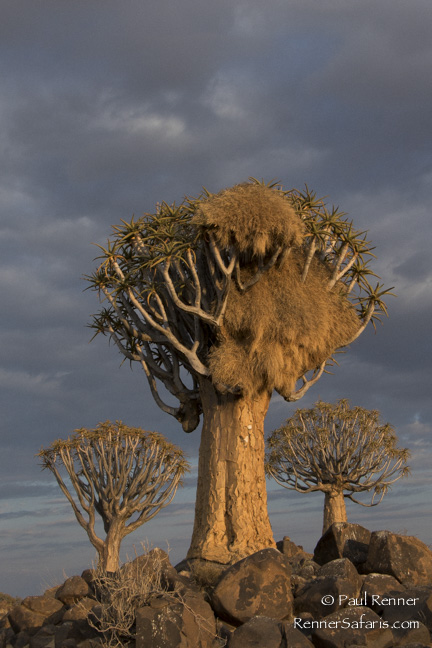 Sunrise at the Quiver tree forest.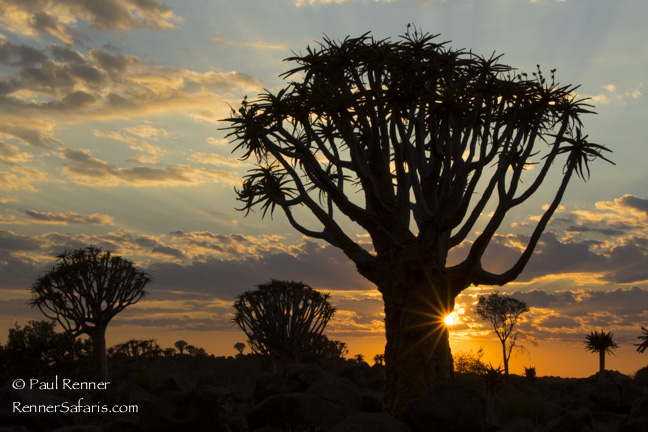 Stars fill the dark Namibian sky surrounding the Quiver trees. We used flashlights to light paint the foreground.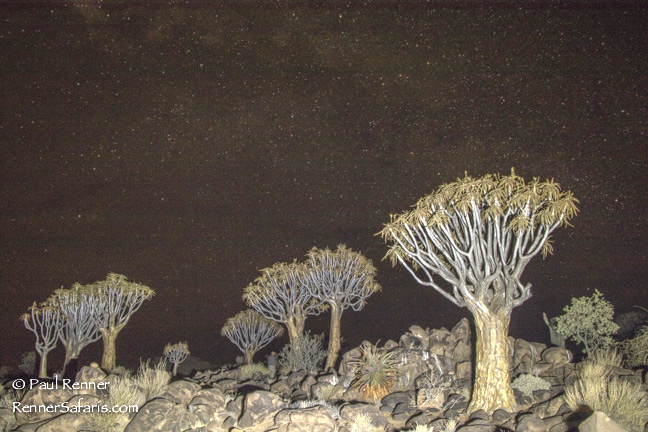 Cheetahs are best photographed in early morning or late evening light to capture the gorgeous golden color of their eyes. When the sun gets high in the sky, their deep eye sockets block out the sun so their eyes can look like black holes.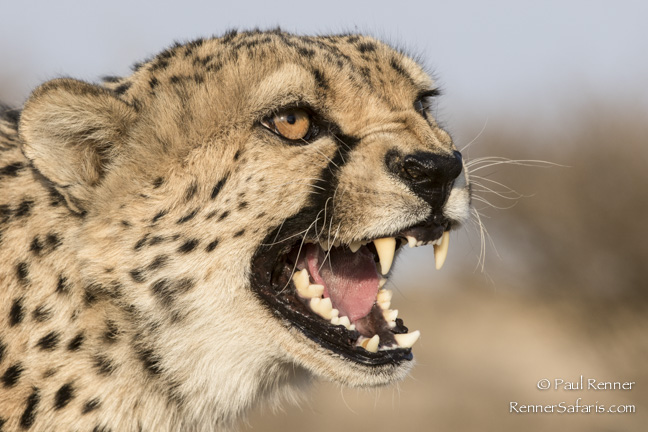 After leaving the Quiver tree forest, on our way to the port town of Luderitz, we stopped near Aus to photograph the wild horses.  No one knows for certain how they ended up in Namibia. One theory is that at the end of World War 1, when the German soldiers left the country, they released their horses in the desert to fend for themselves.  Amazingly they have adapted to desert life. Each day they spend time at a waterhole that was built for them.  We also saw  oryx, springbok and ostrich drinking at the waterhole.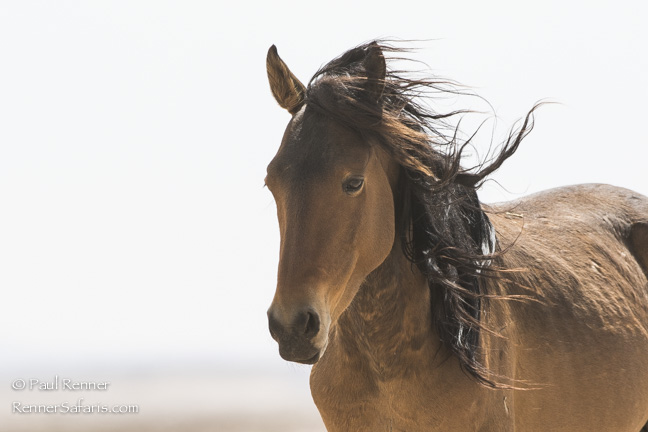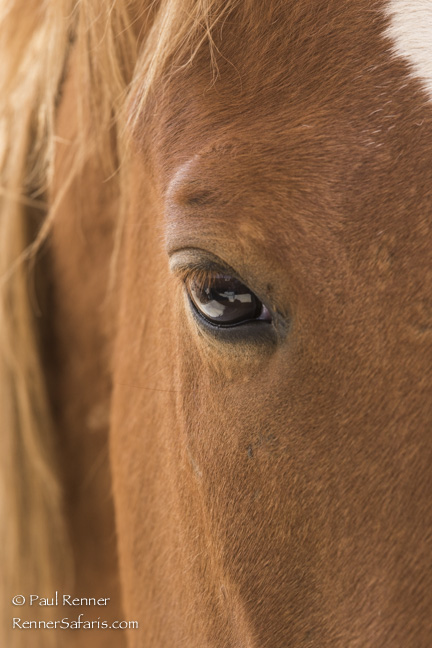 Near the town of Luderitz, is a dilapidated ghost town named Kolemanskop.  The buildings are slowly filling up with windblown sand from the surrounding desert. Kolemanskop was a diamond mining town but when the diamonds were exhausted the people moved out and left the buildings as they were.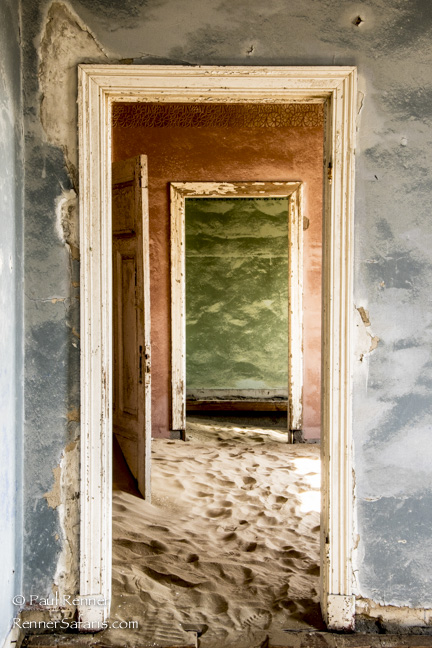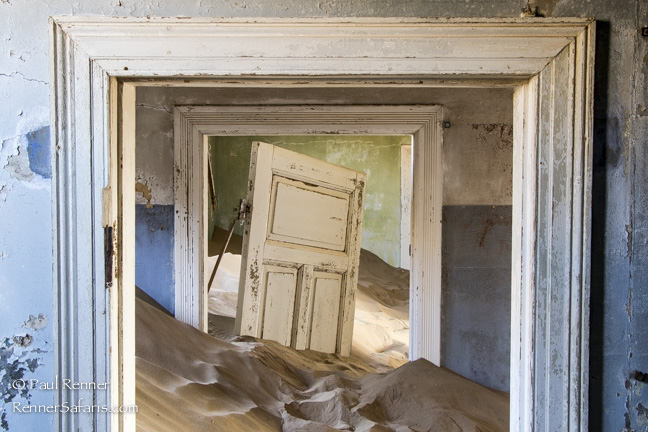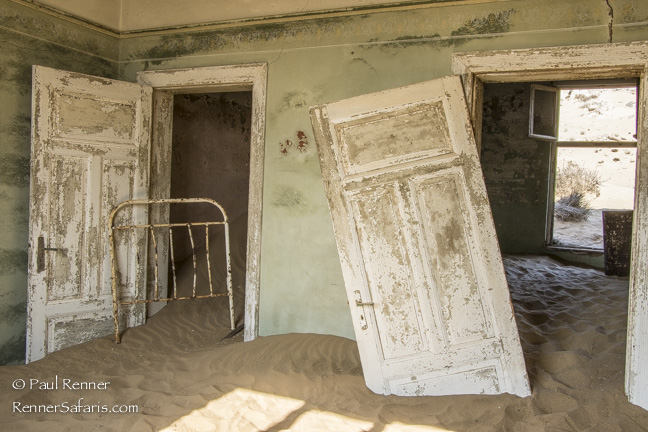 Traveling north, we made our way to Sossus Dune Lodge. It is the only lodge located inside the Namib Naukluft park. By staying there were were allowed to enter the park earlier and stay out later for the purpose of better light for photography. The park is well known for sand dunes that rise to a thousand feet above the desert floor around Sossusvlei and Deadvlei.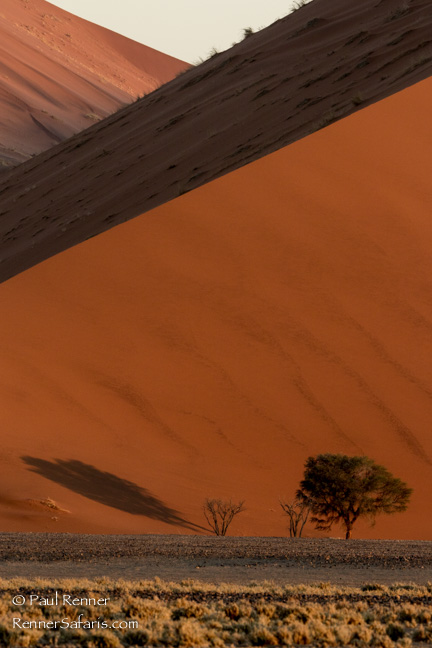 Contrast between sunlight  illuminating the dunes and shadows can be spectacular.  The reddish brown colored sand creates stunning photos.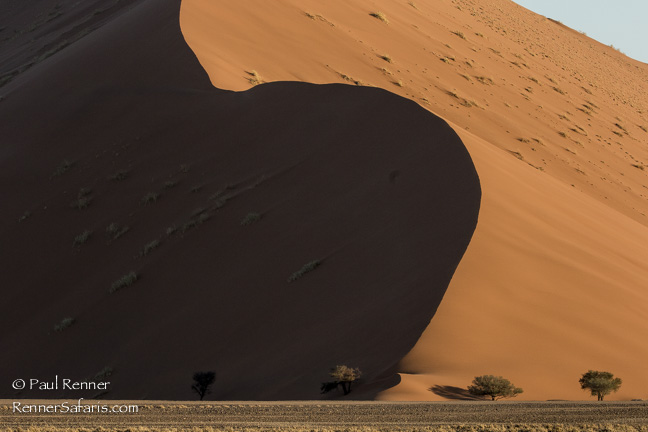 The dunes can be easily photographed from the road using a telephoto lens mounted on a tripod.  This eliminates difficult hiking in the deep sand.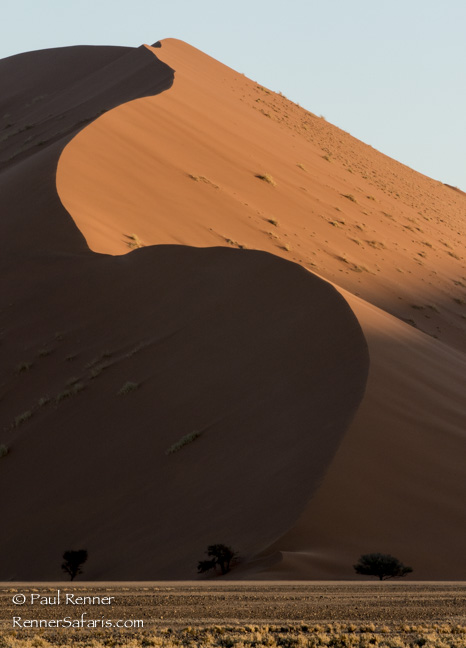 Some of the group decided to walk about a mile to the base of one of the dunes to shoot some closeups. That was great too!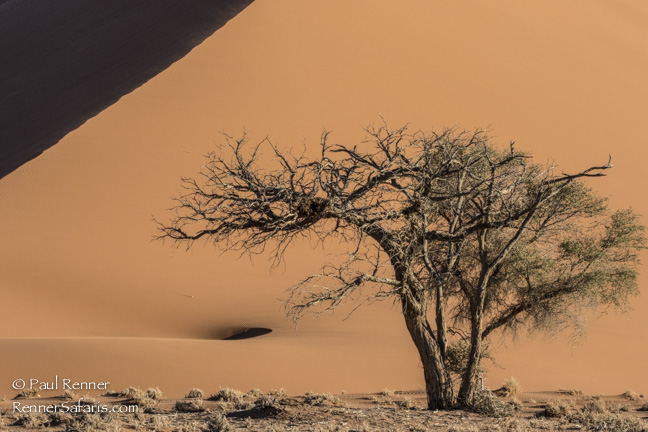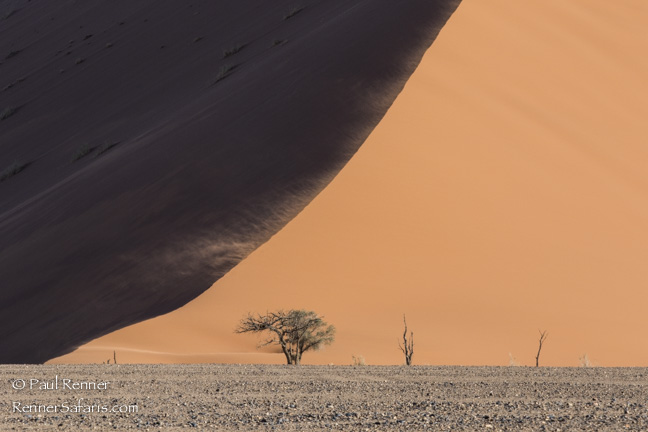 The camel thorn trees at Deadvlei died about 300 years ago after the pan flooded and they drowned because of too much water.  Due to the dry climate they are still well preserved.  It is a fascinating area to photograph and the trees are eerily beautiful.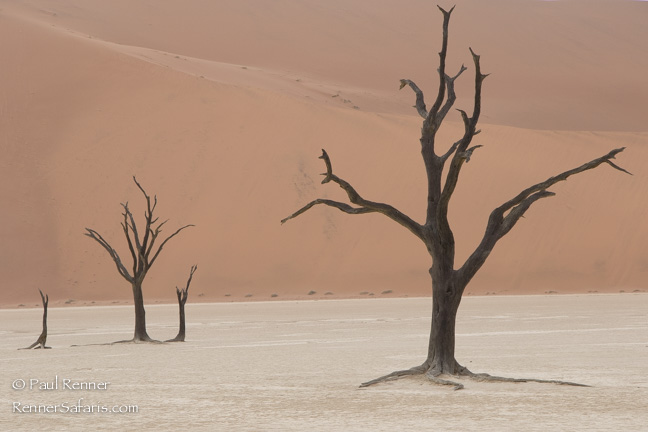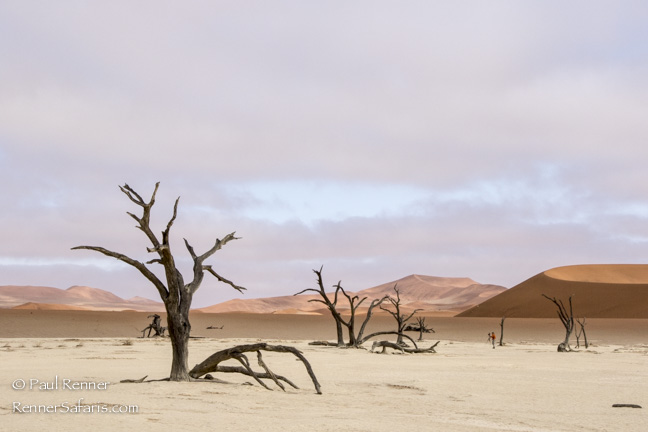 From the dunes we drove to the coast where we went out on a boat cruise to see a large colony of elephant seals.  I was  fascinated with the White Pelicans of Walvis Bay.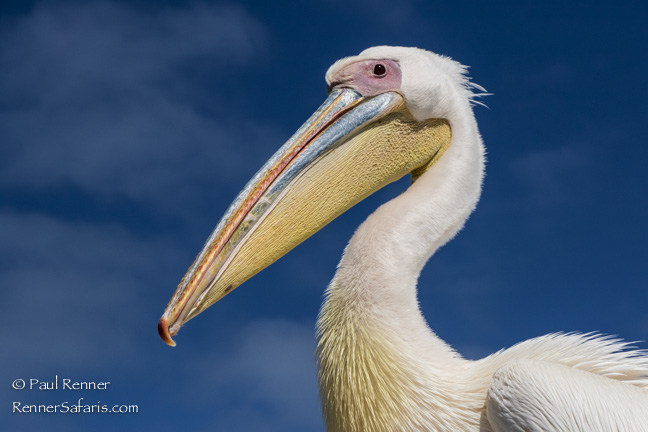 This picture just makes me laugh.  Sometimes it is great therapy to just enjoy what is.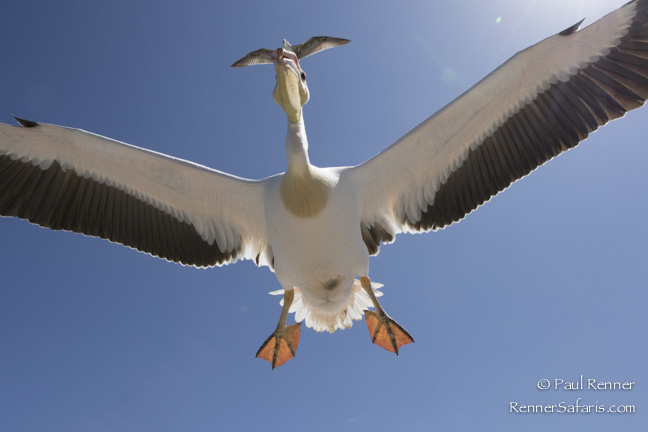 From Walvis Bay and Swakopmund we flew north along the Skeleton Coast, so named for numerous shipwrecks that remain deteriorating along the shore.  A  colony of elephant seals lay basking in the sun as one of our planes flew over.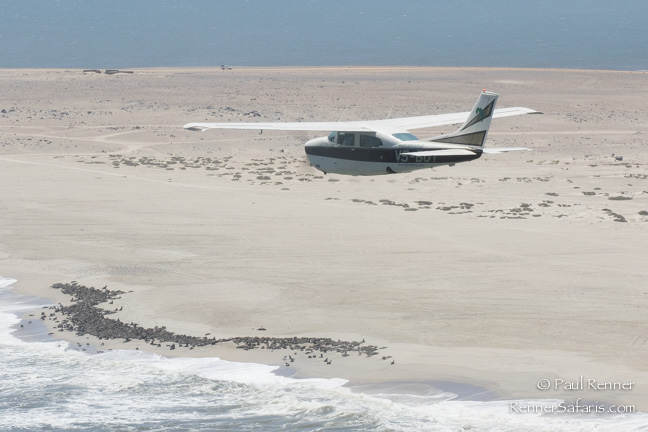 Tracks left by those in 4×4 vehicles as they enjoyed driving in the desert sand.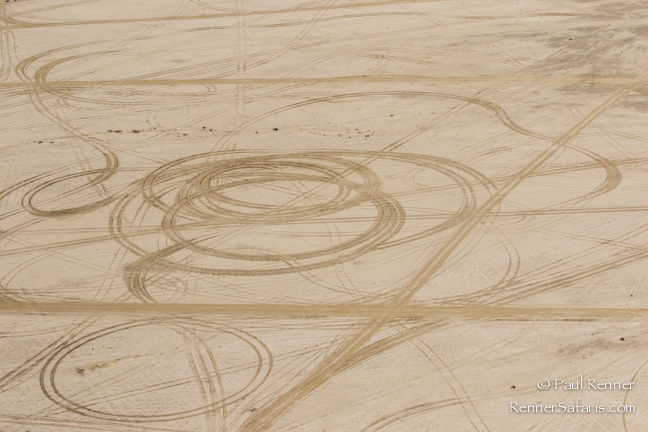 The remains of an ancient, wooden sailing vessel in the surf.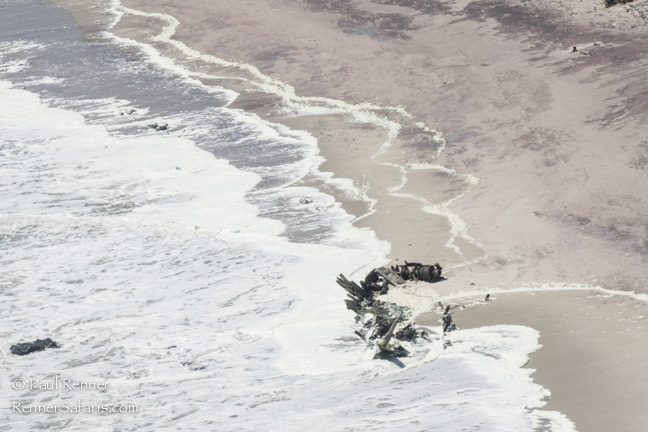 The rusting remains of an old steel hulled ship that ventured to close to the shore in years gone by.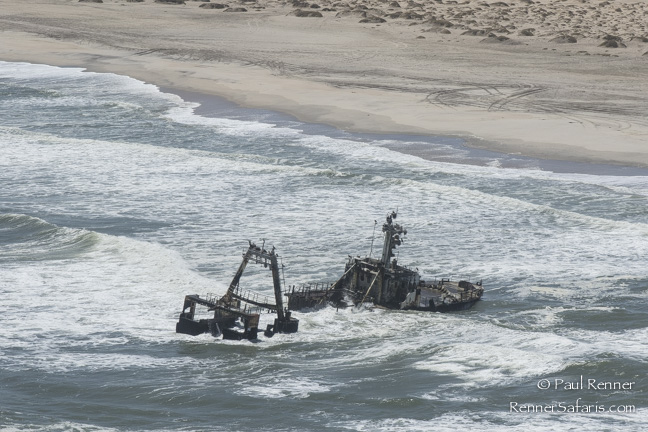 We flew north  for scenic views along the coast for over an hour.  Then we turned to the east and flew over the desert to Etosha National Park.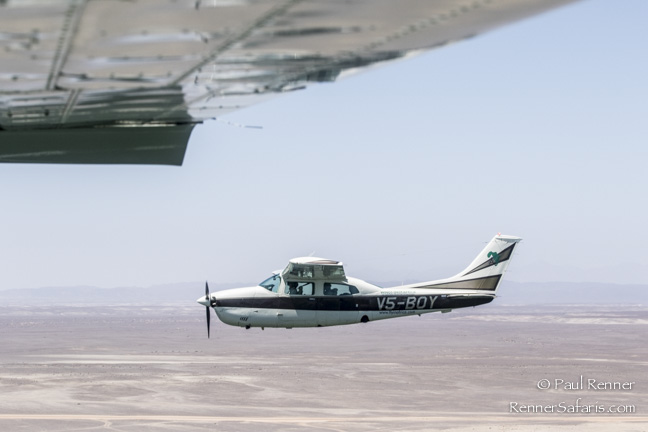 Etosha National Park is known for having watering holes where wildlife comes to drink during the heat of the day.  In October, daytime temperatures were usually between 90 and 105 degrees.  We used air-conditioned safari vehicles to make our trip more enjoyable. Wildlife was in great supply and offered unlimited photo opportunities.
Elephants on the move.
Elephant, Greater Kudu and Springbok share a waterhole at Okaukwejo.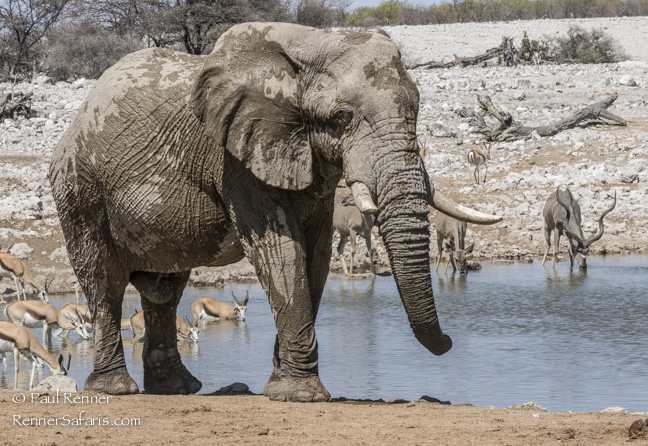 Red Hartebeest.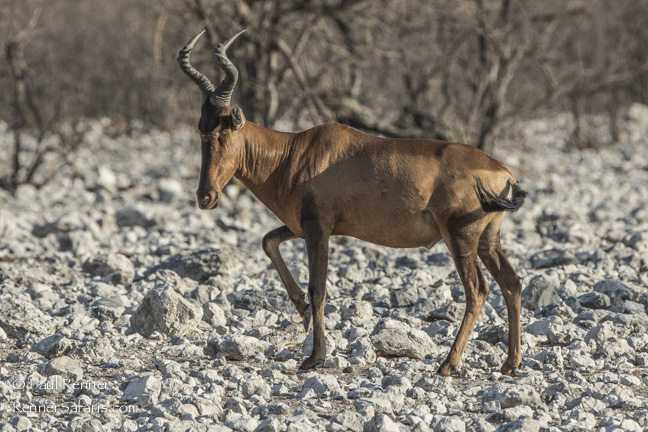 Greater Kudu.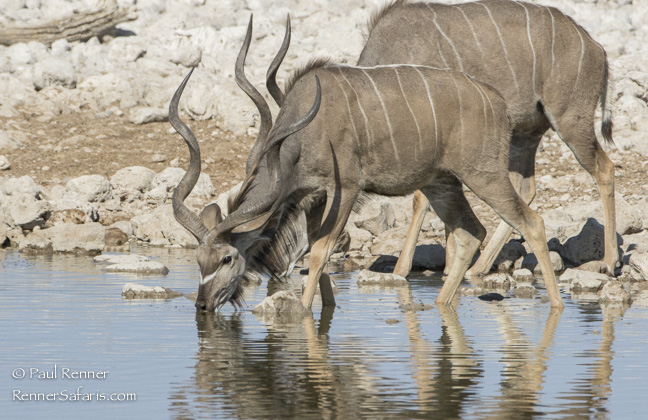 Giraffe and its young drinking. In Etosha it is common to see drinking giraffes.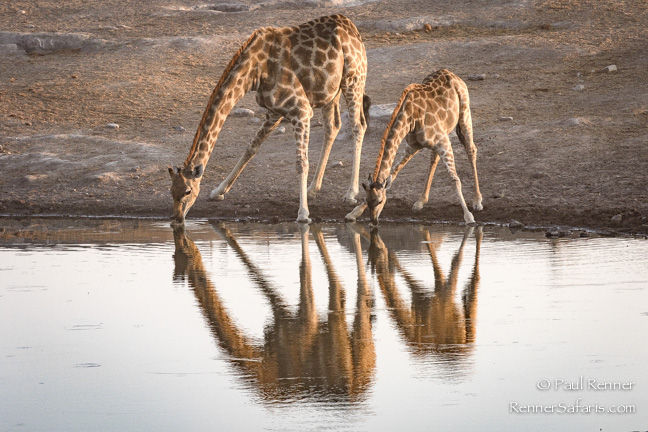 Elephant, Zebra Ostrich and Oryx enjoying time at the waterhole.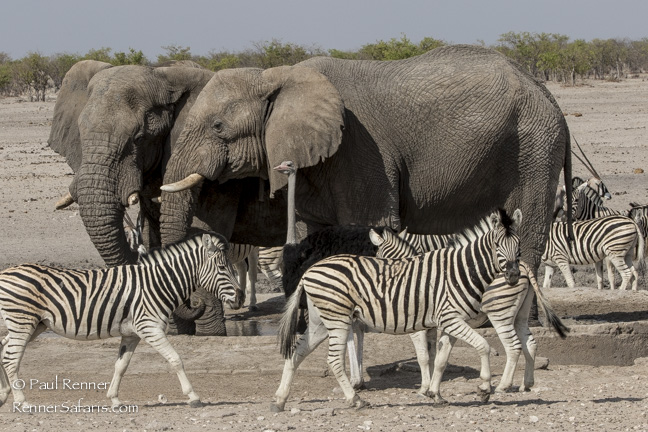 We had a fantastic sighting one afternoon we when this  leopard walked right out in the open for a drink. One of the things I like best about safaris is the wildlife sightings that so often surprise us!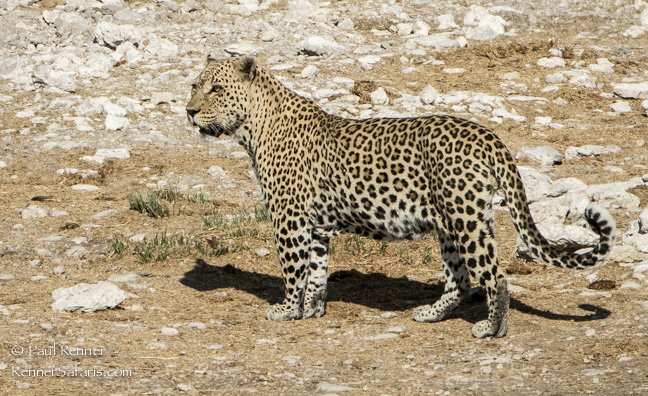 This Crimson Breasted Shrike was elusive but I was fortunate to get a couple of photos of the is beautiful bird.
Fork Tailed Drongos are good at  imitating eagles and other bird calls.  They have learned that if they make the sound of an eagle, meerkats and mongoose will run for cover. This is perfect because when the Drongo sees an animal eating a bug it wants, it makes the sound of an eagle, and when the animal drops the bug and runs to hide, the Drongo swoops down and steals the bug before the animal returns.
European Bee Eater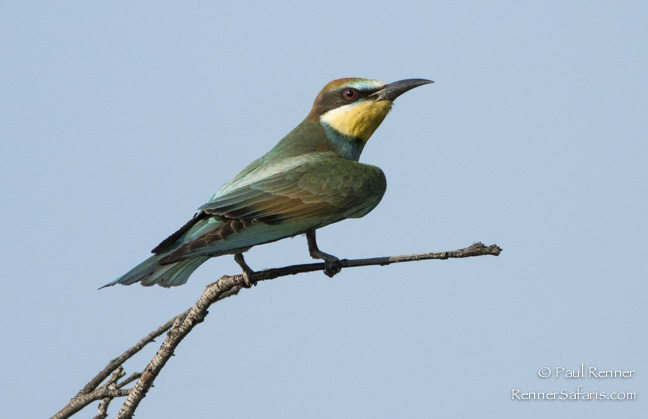 One afternoon we came upon a pride of lions resting under a thorn tree.  I loved the little cub sitting with its dad.  The lighting was horrible.  Deep shadows and bright highlights creating massive contrast.  In Camera Raw I lightened the shadows and darkened the highlights to get a photo that is acceptable and that I enjoy.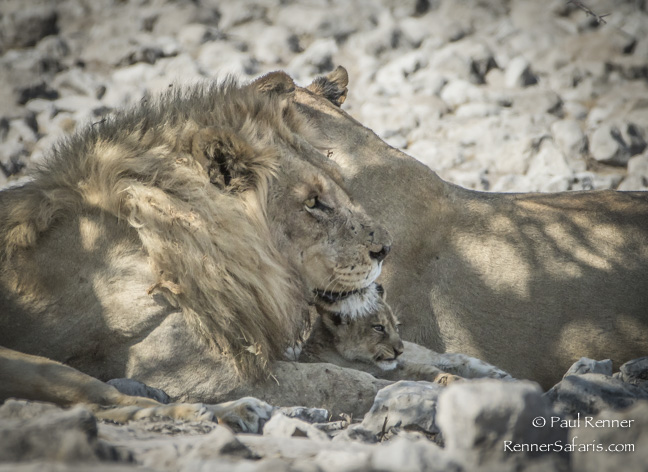 Feast your eyes on our upcoming 2016 safaris.

2016 Safari Dates
I am proud and honored to personally lead each of these outstanding luxury photo safaris. I have personally designed our photo safaris to take clients to the best locations for wildlife photography in each country.  These are phenomenal trips so I hope you will be able to join me for your tip of a lifetime! The safaris often sell out quickly so if you are considering joining us in 2016 contact us for your registration forms and register as soon as possible so you don't miss out on your trip of a lifetime!
There are still a few spaces available on this year's Namibia safari scheduled for September 30-October 19, 2016.  I hope you can join us.
To reserve your space on our photo safaris, please call Paul Renner at (949) 295-3136, or email him at: paulrenner3@cox.net or ask for Prem Sharma or Gaby Gurrola at Best Safaris (800) 757-6625. The above itinerary dates may be subject to change due to accommodation availability at the time of booking.
———————————————————————————————
Red Lechwe leaping frantically from one side of the water to the other.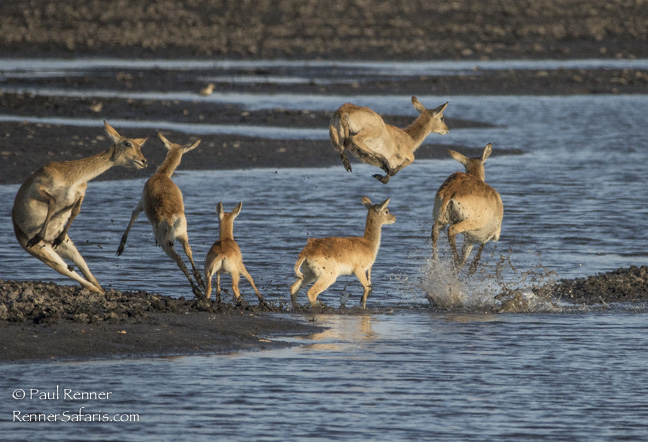 Old friends together again.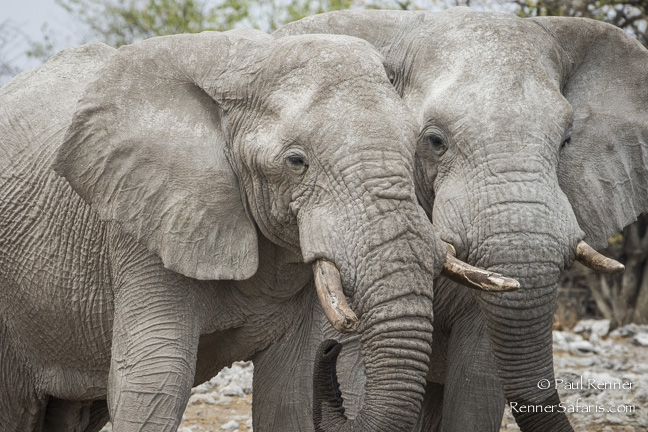 Oryx on the desert plains.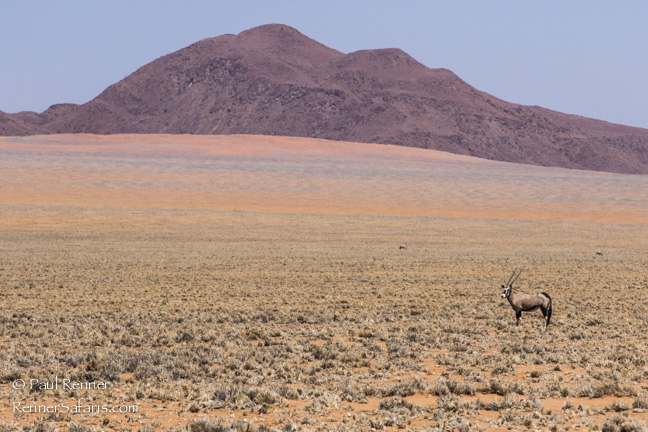 Giraffe,Oryx, Kudu and Zebra near water.


Evening drink.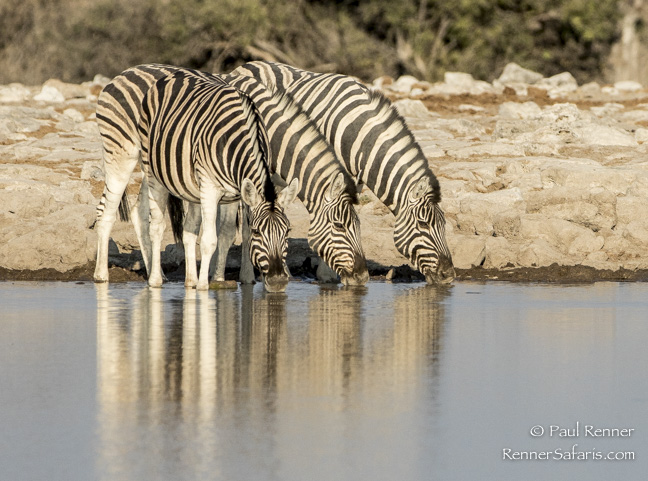 Springbok resting.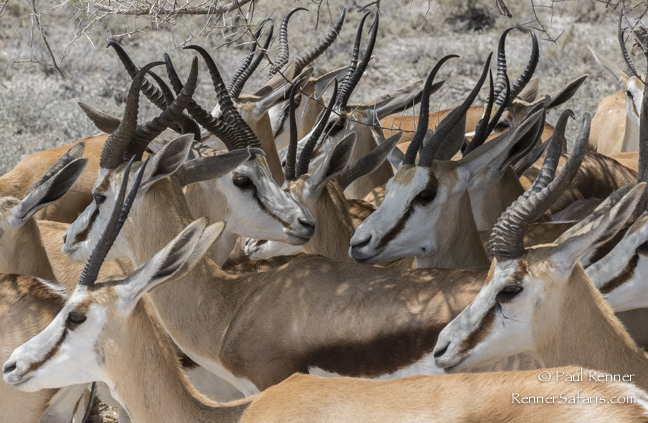 We were traveling the river by boat and were headed for the steps cut into the bank in the background.  Oh oh, elephant in the way!  Naturally we waited for the elephant to go ashore before proceeding. Love those surprises.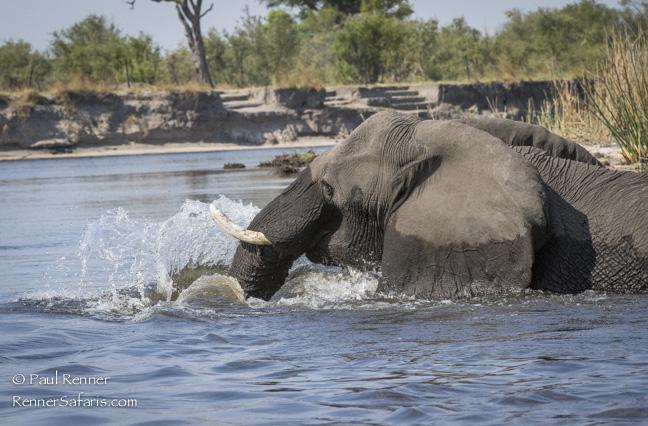 Black Rhino and calf  at a waterhole at night.  They appeared out of the darkness and quietly made their way to the pond where they stayed nearly half an hour, enjoying the coolness of the water.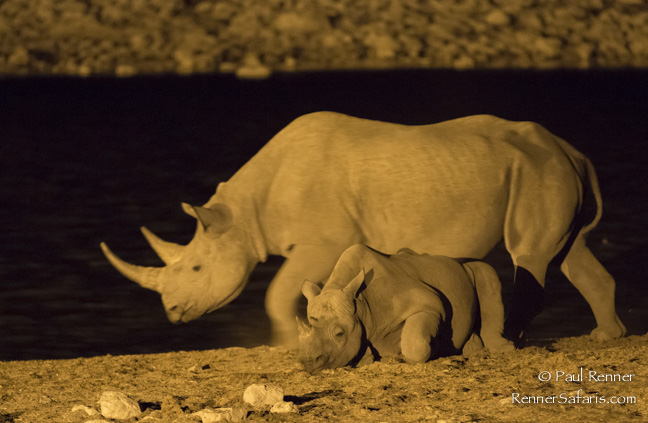 We found this lion by himself, just resting along the road.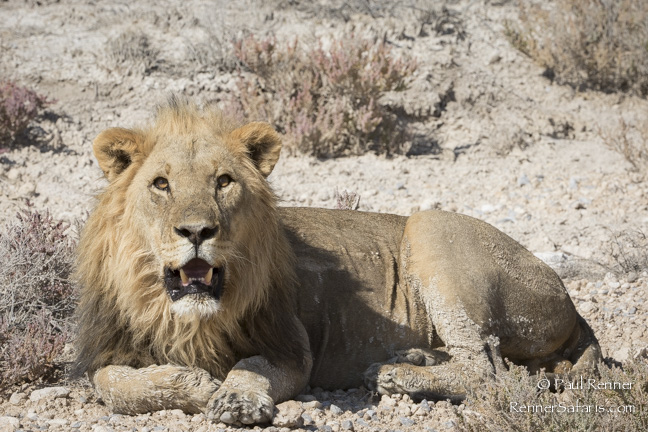 A pride of lions had been lying in the shade of some trees not far from a waterhole. As evening drew near, they wandered down to the water for a drink and then some horseplay ensued for the older cubs.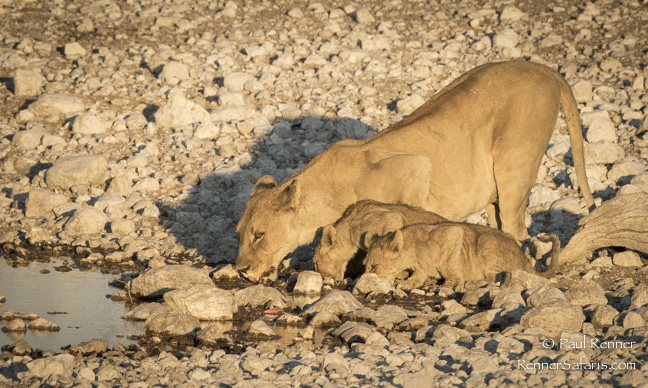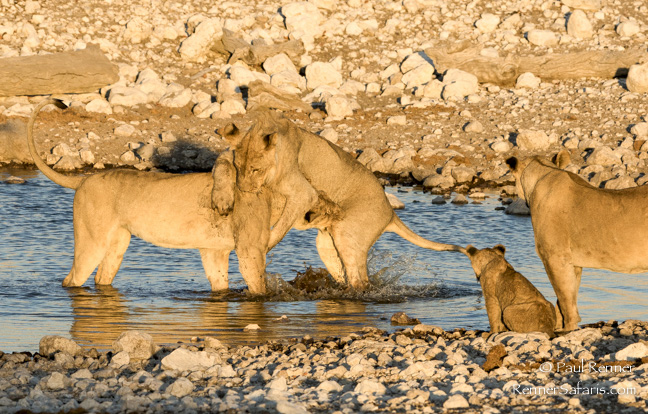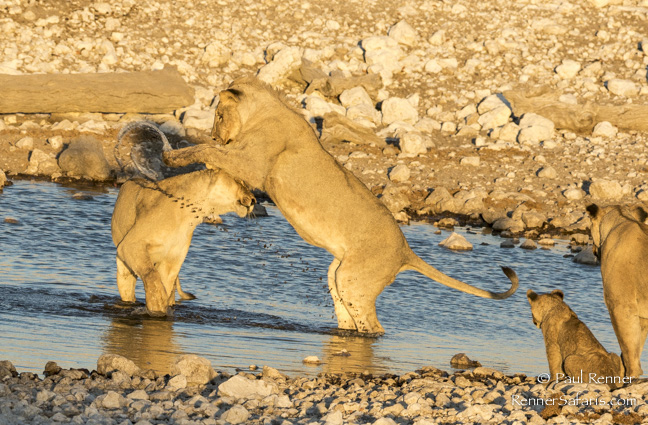 The smaller cubs had been content to watch the older ones out in the water but as they came to shore they joined in the fun too.  These are special moments that I am often honored to witness and photograph on our safaris.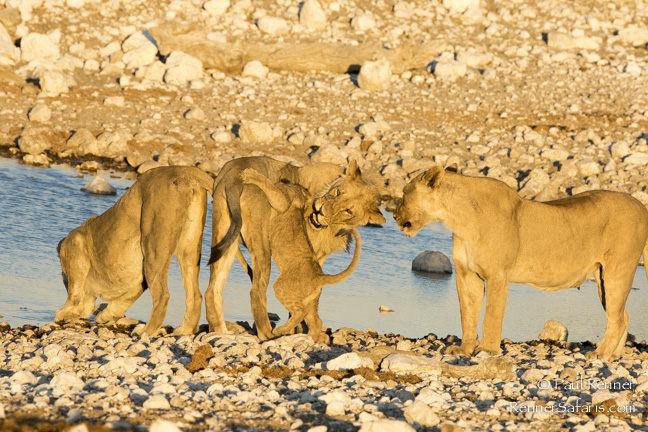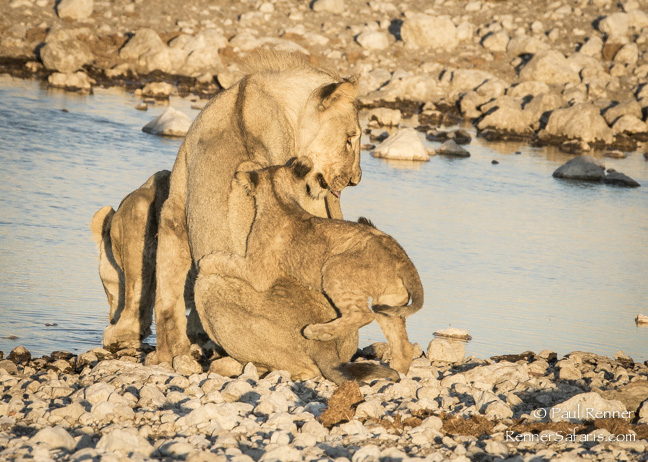 On the road again. White rhino and calf.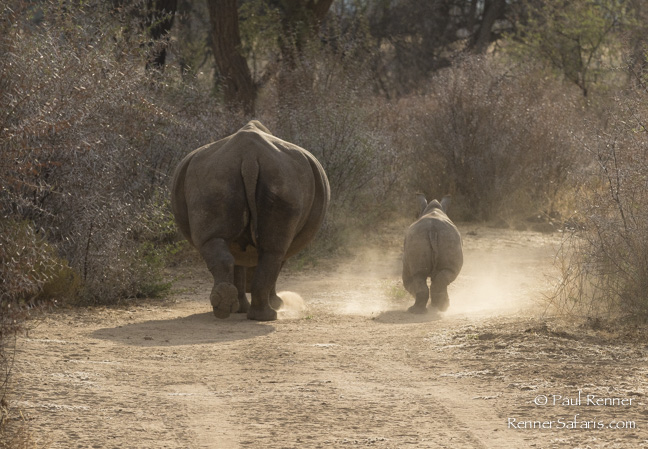 After the conclusion of our regular Namibia safari, Rainer, Julie and I went north to Popa Falls in northern Nambia. It was all of the way up at the border with Angola in a harsh, hot, dry and rocky landscape.  I thought to myself, "How do people survive or even live in this area?"  It was difficult terrain to transverse in a safari vehicle but the people who live in the area travel on foot. They are very tough people, but they are also friendly and seemed to enjoy having visitors in their village. They still dress as they have for hundreds or perhaps thousands of years.
Himba women and child at Popa Falls.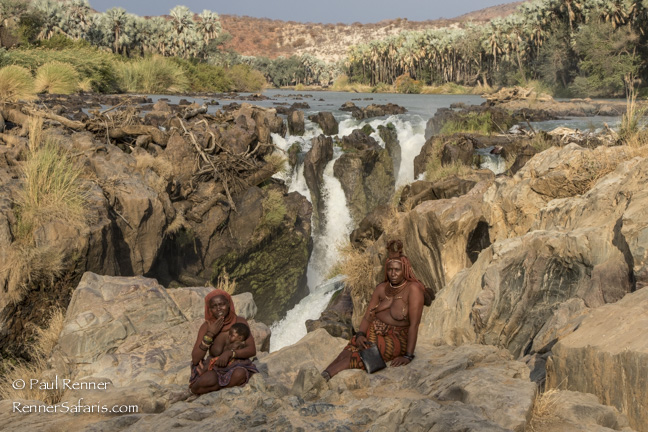 Young Himba woman. The women spend up to three hours each day on their makeup and clothing. Most of their makeup consists of reddish colored okra.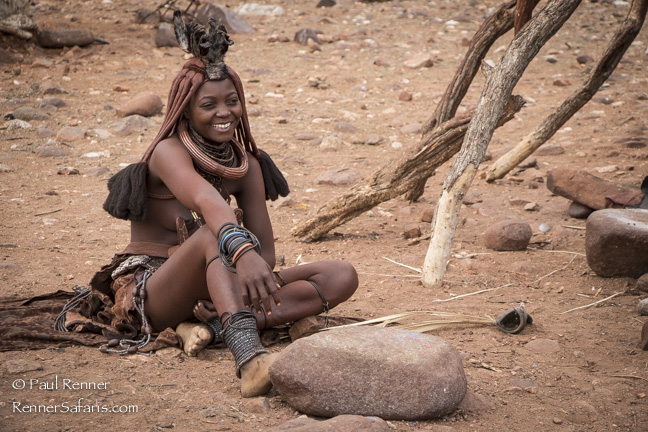 This little girl loved posing for the camera and then seeing her photo on rear display screen.  Girls can be identified by the two braids coming forward toward their faces.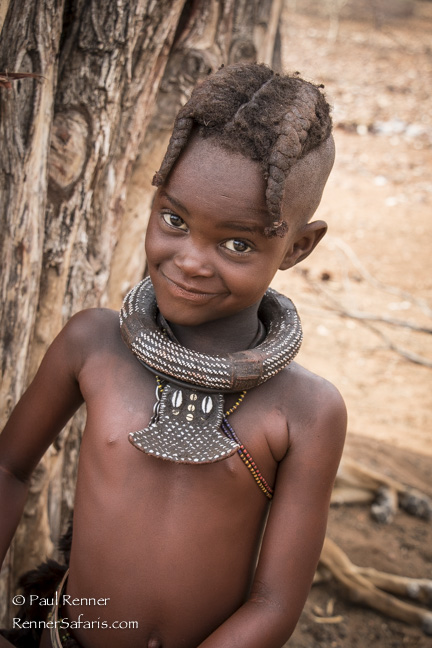 We were invited into this friendly woman's home to see how they lived.  Definitely different from western style homes.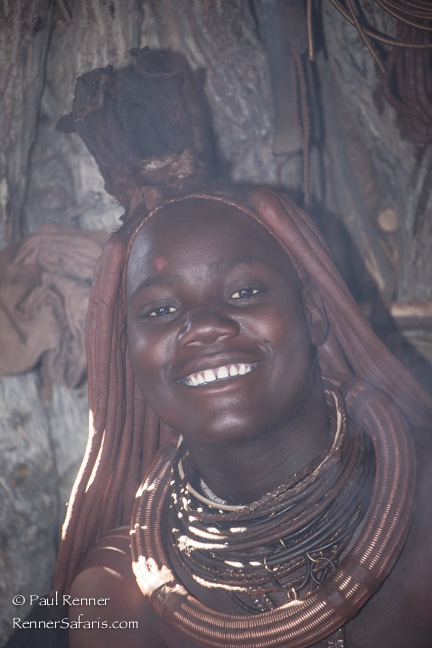 The only window was a hole big enough to allow in a little light and also to let some of the smoke from the fire escape.  The items on the wall were different pieces of clothing the woman could wear.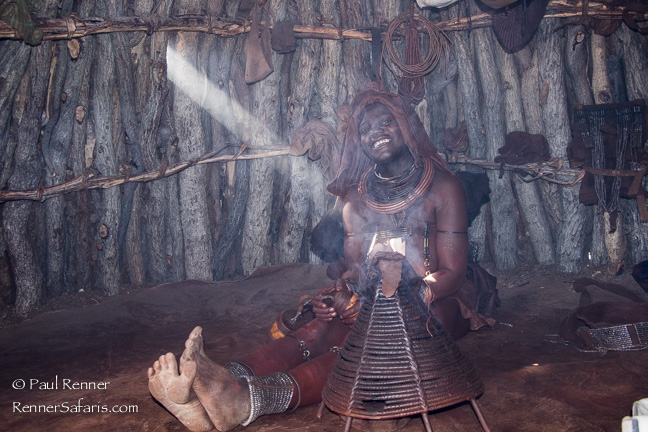 A water point was about a mile away.  This woman was carrying five gallons of water back to the village for cooking, washing or whatever they needed the water for.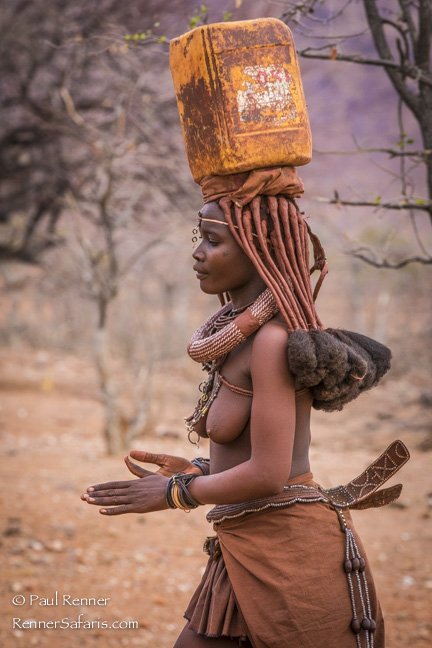 The child can be identified as a boy by the hair ( like a short mohawk) in a line down the center on the top of his head.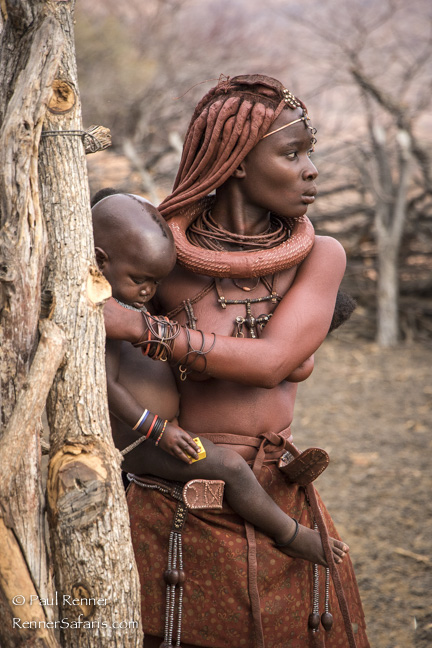 We drove east from the Himba people, across the country, to visit the San Bushman that live east of Etosha National Park. They have been hunter-gatherers and living off of the land for thousands of years.  Things are changing for the San Bushmen. They have moved into communities and have started farming crops and are slowly giving up their old ways of life.  As we watched the children involved in their games we were struck by how much they appeared to enjoy playing together.  The air was filled with laughter and they enjoyed good times together.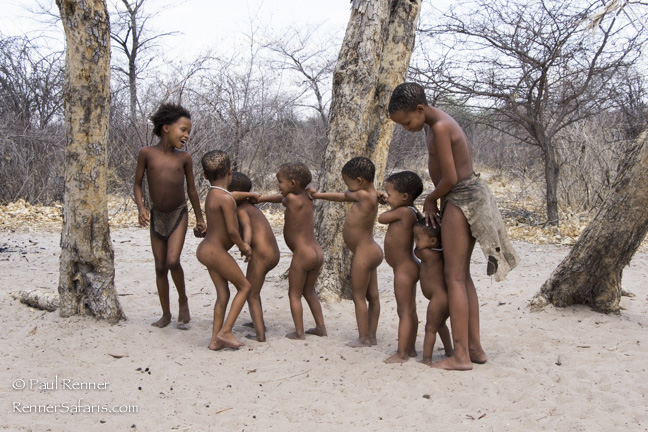 What looks like a ball is actually a fruit that the children use in place a ball.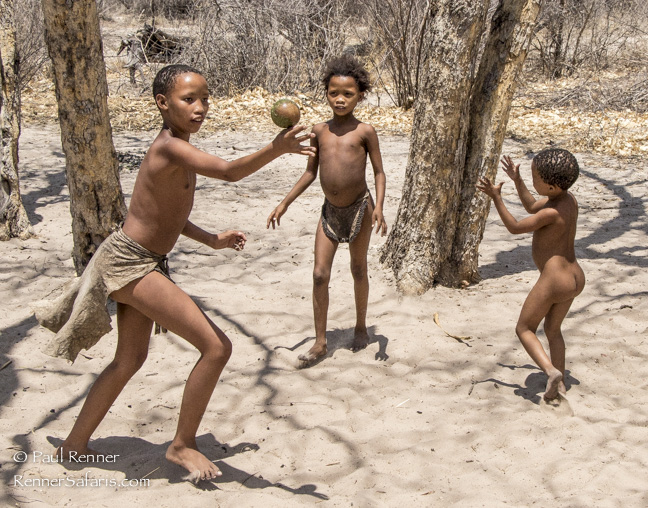 This man was a witch doctor and enjoyed showing us plants that could make people very sick and also plants that were good for healing the sick.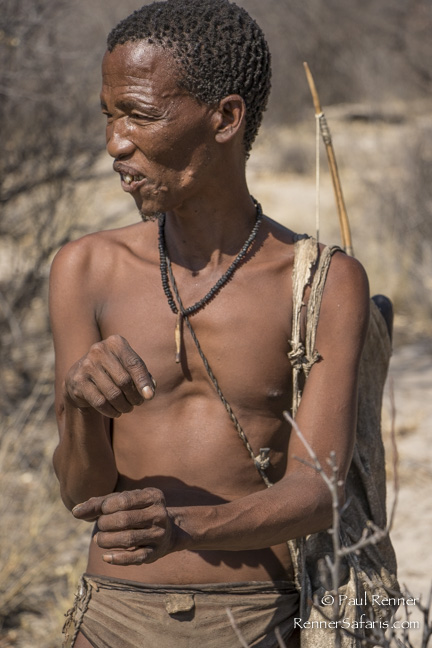 I liked the setting sun reflecting off of the water so set my exposure compensation to -1 and waited until the fisherman in the mokoro canoe passed through the light.

Each of our safaris has been a tremendous photographic experience!  I can hardly wait to return to Botswana in May!  Why don't you join us on one of our safaris for the enriching experience of capturing your own photos in the wilds of Africa!
Our safaris make a wonderful anniversary, Christmas or graduation gift that will be remembered and cherished for a lifetime!
Please forward the newsletter on to friends who might enjoy it.
For more safari information, prices and itineraries click here.
Please feel free to call me at (949) 295-3136 or contact me by email with any questions you may have regarding our safaris.
I hope that you will be able to join us on one of our safaris in the not so distant future. It will be your trip of a lifetime!
Enjoy each day.
Paul Renner
paulrenner3@cox.net
(949) 295-3136